FC Dynamo Kyiv
Numbers speak loud and clear in Dynamo's case, and what they say is that the club from Kyiv can be proud of topping the titles' charts not just in one, but in two countries. After independence, Dynamo have won more trophies in Ukraine than any other club. What's possibly even more impressive though, is that Dynamo's name appears at the top of the list of those who managed to win former USSR's Championship until the country's dissolution, a record that no one can ever take away from them.
Basic facts
Founded: 1927
Country: Ukraine
City: Kyiv
Home grounds
Dynamo Stadium (1934-1941)
Republican Stadium (1945-1995)
Valeriy Lobanovskyi Dynamo Stadium (1996-2011)
NSC Olympiyskiy (2012-)
Main Trophies
Ukrainian Premier League: 15
Soviet Top League: 13
Ukrainian Cup: 11
Soviet Cup: 9
UEFA Cup Winners' Cup: 2
UEFA Super Cup: 1
Prominent players
Andriy Biba, Oleh Blokhin, Andriy Shevchenko, Ihor Belanov, Oleksandr Zavarov, Oleh Protasov, Serhiy Rebrov, Viktor Kolotov, Oleksiy Mykhaylychenko, Anatoliy Demyanenko, Maksim Shatskikh, Volodymyr Bezsonov, Andriy Yarmolenko, Oleksandr Shovkovskiy, Oleh Husyev, Valeriy Lobanovskyi, Younès Belhanda, Andrei Kanchelskis, Hennadiy Lytovchenko
Club records
Most games played: Oleksandr Shovkovskiy (622)
Top goalscorer: Oleh Blokhin (266)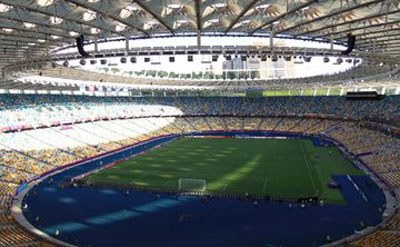 History
Soon after its founding in 1927, Dynamo started competing in what used to be called the Championship of the Ukrainian SSR, winning the title twice before WWII broke out. During the war and Ukraine's occupation by the Nazis, many Dynamo players joined a team under the name Start, and played a series of matches against (but not exclusively) teams that consisted of German soldiers, and others coming from countries that were Germany's allies. Start went on to awe everyone with their football and results, but tragically, most of Dynamo's players were killed before the war was over.
USSR's new mega-power
In 1954, the club celebrated its first national title, winning the Soviet Cup. It was in the sixties though that Dynamo took the Soviet Union by storm. Their first ever Championship title in 1961, under the management of Vyacheslav Solovyov, proved to be a warning shot. Five years later, under the famous coach Victor Maslow, they announced themselves as USSR's new mega-power, winning the first of three consecutive Championship titles. The team was not known for a crowd-pleasing style, however, instead being noted for destructive tactics and physical fitness as a product of Maslow's zonal marking.
In the next two and a half decades, until Soviet Union's dissolution, Dynamo amazingly won half the titles, surpassing their biggest rival in Soviet times, Spartak Moscow, and having enjoyed along the way some major successes at international level, winning UEFA's Cup Winners' Cup twice, in 1975 and 1986, UEFA's Super Cup in 1975, and also reaching the semifinals of the then-called European Cup, the predecessor of today's UEFA Champions League.
A huge part of their success can be attributed to Dynamo's two most emblematic figures, legendary Oleh Blokhin, the club's all-time leading goalscorer, and the late Valeriy Lobanovskyi, who, after playing for Dynamo for seven years in the late fifties/early sixties, returned as a head coach in the seventies, and spent a total of 20 years at the helm, during three exceptionally successful stints. His sudden death in 2002 was followed by the club's home ground being renamed after him.
After Ukraine's independence, Dynamo went on to win nine consecutive Championship titles, a record that looks almost impossible to break. Unlike fierce rivals Shakhtar Donetsk, who have based their success on importing quality players mostly from Brazil, Dynamo look determined to keep pursuing success following their old recipe of relying on home-grown talent, a choice applauded by their supporters.
By Dimitris Basias
Logo
A capital letter D, obviously after "Dynamo", is at the heart of the logo, accompanied by Kyiv's name in Ukrainian. The stylized "D" can be seen in many logos of teams with Dynamo in the names (after the fall of the Soviet Union some have decided to abandon it. Each of the two stars symbolizes the more than ten Championship titles the club has won in former Soviet Union and in independent Ukraine.
External links
References:
https://en.wikipedia.org/wiki/FC_Dynamo_Kyiv
https://en.wikipedia.org/wiki/Valeriy_Lobanovskyi
http://www.fcdynamo.kiev.ua/en/club/history
http://www.fcdynamo.kiev.ua/en/club/Dynamo_logo
http://www.fcdynamo.kiev.ua/en/club/stadium
Jonathan Wilson, Inverting the Pyramid: The History of Soocer Tactics (2013)
Image source:
Dimitris Basias