Celtic FC
With 46 Scottish Championships and 36 Scottish Cups in their trophy cabinet, it's fair to say that Celtic FC is a club synonymous with Scottish football. Along with their domestic successes, they were the first British club to win the European Cup, having done so in 1967. Their Old Firm derby with Rangers is one of the most popular rivalries in the football world, and the two clubs have a long history of competing against each other.
Basic facts
Founded: 1887
Country: Scotland
City: Glasgow
Home grounds
Celtic Park (1892-)
Main trophies
Scottish Football League/Scottish Premier League/Scottish Premiership: 50
Scottish Cup: 37
European Cup: 1
See details
Hide details
Scottish Football League: 1892–93, 1893–94, 1895–96, 1897–98, 1904–05, 1905–06, 1906–07, 1907–08, 1908–09, 1909–10, 1913–14, 1914–15, 1915–16, 1916–17, 1918–19, 1921–22, 1925–26, 1935–36, 1937–38, 1953–54, 1965–66, 1966–67, 1967–68, 1968–69, 1969–70, 1970–71, 1971–72, 1972–73, 1973–74, 1976–77, 1978–79, 1980–81, 1981–82, 1985–86, 1987–88, 1997–98
Scottish Premier League: 1997–98, 2000–01, 2001–02, 2003–04, 2005–06, 2006–07, 2007–08, 2011–12, 2012–13
Scottish Premiership: 2013–14, 2014–15, 2015–16, 2016–17, 2017–18, 2018–19
Scottish Cup: 1891–92, 1898–99, 1899–1900, 1903–04, 1906–07, 1907–08, 1910–11, 1911–12, 1913–14, 1922–23, 1924–25, 1926–27, 1930–31, 1932–33, 1936–37, 1950–51, 1953–54, 1964–65, 1966–67, 1968–69, 1970–71, 1971–72, 1973–74, 1974–75, 1976–77, 1979–80, 1984–85, 1987–88, 1988–89, 1994–95, 2000–01, 2003–04, 2004–05, 2006–07, 2010–11, 2012–13, 2016–17
European Cup: 1966–67
Prominent players
John Madden, Jimmy Quinn, Jimmy McGrory, Roy Aitken, Bobby Evans, Jimmy Johnstone, Bobby Lennox, Bobby Murdoch, Paul McStay, Kenny Dalglish, Brian McClair, Stiliyan Petrov, Henrik Larsson, Paolo Di Canio, Mark Viduka, Scott Brown
Club records
Most games played: Billy McNeill (790)
Top goalscorer: Jimmy McGrory (395)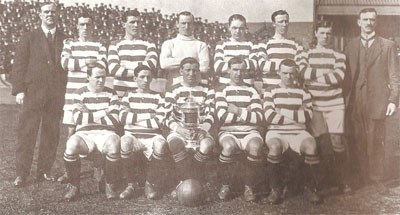 History
With a foundation date of 1887, Celtic was formed as a means of fundraising for the "Poor Children's Dinner Table" charity. A year later, the club played its first official match against Rangers, thus setting the stage for a rivalry based as much on the clubs' political and religious differences than on their on-field disputes. For the first couple of decades, Celtic was slightly more successful of the two clubs, winning 17 Scottish Championships and 12 Scottish Cups until 1927.
Second to Rangers
Even with Jimmy McGrory – one of the most prolific British strikers of all time – as a focal point of their attack, Celtic slowly found itself on the back foot in a battle with Rangers. The next four decades saw Celtic win the Scottish Championship a mere three times, a far cry from the dominance they exerted early on in the century. They also managed to win five Scottish Cups during this time, but it was a small consolation for the disheartened fans.
Advertisement
Successful times
With Jock Stein taking over as manager in 1965, things immediately took a turn for the better. With his undeniable charisma and influence, Stein transformed Celtic's under-performing team into a machine that claimed nine consecutive Scottish Championships from 1966 to 1974. The 1967 season was particularly memorable, with Celtic winning every single competition they played in, including being the first non-Latin side to win the European Cup.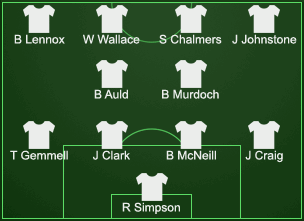 Celtic line up 1967 European Cup final v. Inter (2-1)
Stein left the club in 1978, having won 10 Scottish Championships, 8 Scottish Cups and a European Cup.
The following period saw Celtic enjoy further domestic success, including five additional Scottish Championships and four Scottish Cups before the end of the 80s. But the early 90s turned out to be a time of decline, with the club's numerous financial difficulties having them come precariously close to bankruptcy. They were eventually saved by businessman Fergus McCann, who took over the club and placed it on the stock market. This turn of events led to Celtic getting back on the road to recovery, winning a Scottish Cup in 1995 and a Scottish Championship in 1998.

In 2000, Martin O'Neill took over as manager and led the club to a Double in his first season in charge. This would soon prove to be another turning point in the club's history, as Celtic went on to claim ten Scottish Championships and six Scottish Cups in the years that followed, once again replacing Rangers as the most dominant club in the country.
By Martin Wahl

Advertisement
Logo

The club adopted a logo in the 1930s with a green four leaf clover as the dominant symbol. The leaf is outlined by a circle with the text "The Celtic Football Club" and the year of inauguration.
Celtic FC timeline
1887 The club is established.
1892 The club move to the new Celtic Park.
1892 Winning their first Scottish Cup title.
1893 First time winner of the Scottish League Championship.
1907 Winning their first Double (Scottish Cup and League).
1922 Jimmy McGrory is signed to the team.
1931 The first non-Brittish player is signed (Joe Kennaway, Canada).
1957 Winning their first Scottish League Cup title.
1965 The former Celtic player Jock Stein is hired as manager.
1967 First European Cup title.
1967 Winning their first Treble (Scottish Cup, League Cup and League).
1994 The businessman Fergus McCann become the new club owner.
Trivia
Football clubs also founded in 1887
Barnsley FC


Blackpool FC


Hamburger SV
Scottish Football League record
| Season | Position | Points | Notes |
| --- | --- | --- | --- |
| 2017-18 | 1 | 75 | 49th league title |
| 2016-17 | 1 | 91 | 48th league title |
| 2015-16 | 1 | 76 | 47th league title |
| 2014-15 | 1 | 79 | 46th league title |
| 2013-14 | 1 | 88 | 45th league title |
| 2012-13 | 1 | 69 | 44th league title |
| 2011-12 | 1 | 81 | 43th league title |
| 2010-11 | 2 | 79 | |
| 2009-10 | 2 | 66 | |
| 2008-09 | 1 | 74 | 42th league title |
| 2007-08 | 2 | 74 | |
| 2006-07 | 1 | 78 | 41th league title |
| 2005-06 | 1 | 85 | 40th league title |
| 2004-05 | 1 | 83 | 39th league title |
| 2003-04 | 1 | 90 | 38th league title |
| 2002-03 | 2 | 82 | |
| 2001-02 | 1 | 90 | 37th league title |
| 2000-01 | 1 | 88 | 36th league title |
› Scottish Professional Football League – facts, stats and history
Champions League record
| Season | Tournament stage | Notes |
| --- | --- | --- |
| 2015-16 | Play-off | |
| 2014-15 | Play-off | |
| 2013-14 | Group stage | |
| 2012-13 | Round of 16 | Eliminated by Juventus |
| 2010-11 | Third qualifying round | |
| 2009-10 | Play-off | |
| 2008-09 | Group stage | |
| 2007-08 | Round of 16 | Eliminated by Barcelona |
| 2006-07 | Round of 16 | Eliminated by Milan |
| 2005-06 | Second qualifying round | |
| 2004-05 | Group stage | |
| 2003-04 | First group stage | |
| 2002-03 | Third qualifying round | |
| 2001-02 | First group stage | |
| 1998-99 | Second qualifying round | |
External links
References:
https://en.wikipedia.org/wiki/Celtic_FC
Jonathan Wilson, Inverting the Pyramid: The History of Soccer Tactics (2013)
Image sources:
Unknown