Portsmouth FC
Portsmouth became a member of the Football league in 1920. The club has won the top division in England on two occasions (1949 and 1950). They have also won the FA Cup twice (1939 and 2008). In the 2000s the club has been close to bankruptcy, but economically saved when the Russian businessman Vladimir Antonov took over the club in 2011. Two of the most known players in the team during the years are Jermain Defoe and Peter Crouch.
Basic facts
Founded: 1898
Country: England
City: Portsmouth
Home grounds
Fratton Park (1898-)
Main trophies
First Division/Premier League: 2
FA Cup: 2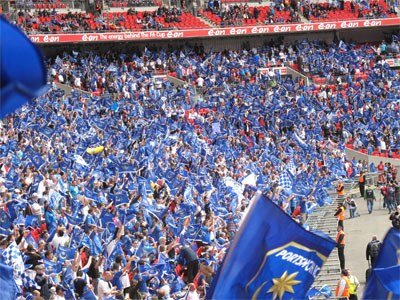 History
Portsmouth was established in 1898 and took over the place in Southern league in 1899 from local rival Royal Artilllery that had dissolved.
By Oscar Anderson
Premier League record
| Season | Position | Points | Notes |
| --- | --- | --- | --- |
| 2015-16 | - | - | |
| 2014-15 | - | - | |
| 2013-14 | - | - | |
| 2012-13 | - | - | |
| 2011-12 | - | - | |
| 2010-11 | - | - | |
| 2009-10 | 20 | 19 | Relegated |
| 2008-09 | 14 | 41 | |
| 2007-08 | 8 | 57 | |
| 2006-07 | 9 | 54 | |
| 2005-06 | 17 | 38 | |
| 2004-05 | 16 | 39 | |
| 2003-04 | 13 | 47 | |
| 2002-03 | - | - | |
| 2001-02 | - | - | |
| 2000-01 | - | - | |
| 1999-00 | - | - | |
| 1998-99 | - | - | |
| 1997-98 | - | - | |
| 1996-97 | - | - | |
| 1995-96 | - | - | |
| 1994-95 | - | - | |
| 1993-94 | - | - | |
| 1992-93 | - | - | |
References:
Premier League by Gunnar Persson
Image sources:
Glenn Merrett