Reading FC
Reading Football Club has been a member of the Football League since 1920, when the Third Division was introduced. The best result came in 2007 with an eighth place in the Premier League. They have reached the semi-finals twice in the FA Cup and quarter-finals once in the Football League Cup. The club faced a big economic struggle at the late 20th century before it was taken over by Sir John Madejski in the 1990s.
Basic facts
Founded: 1871
Country: England
City: Reading
Home grounds
Elm Park 1896-1998)
Madejski Satdium (1998-)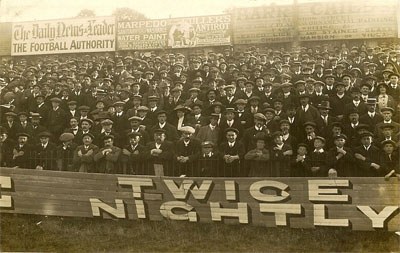 History
The club was founded in 1871. They would incorporate Reading Hornets in 1877 and Earley FC in 1889.
By Oscar Anderson
Trivia
Football clubs also founded in 1871

Old Etonians FC
League statistics
League record
Titles in total: 0
Premier League titles: 0
First participation: 1920-1921
All seasons
| Season | League | Position | Points | Notes |
| --- | --- | --- | --- | --- |
| 2018-19 | Championship | 20 | 47 | |
| 2017-18 | Championship | 20 | 44 | |
| 2016-17 | Championship | 3 | 85 | |
| 2015-16 | Championship | 17 | 52 | |
| 2014-15 | Championship | 19 | 50 | |
| 2013-14 | Championship | 7 | 71 | |
| 2012-13 | Premier League | 19 | 28 | Relegated |
| 2011-12 | Championship | 1 | 89 | Promoted |
| 2010-11 | Championship | 5 | 77 | |
| 2009-10 | Championship | 10 | 63 | |
| 2008-09 | Championship | 4 | 77 | |
| 2007-08 | Premier League | 18 | 36 | Relegated |
| 2006-07 | Premier League | 8 | 55 | |
| 2005-06 | Championship | 1 | 106 | Promoted |
| 2004-05 | Championship | 7 | 70 | |
| 2003-04 | 1st Division | 9 | 70 | Promoted |
| 2002-03 | 1st Division | 4 | 79 | |
| 2001-02 | 2nd Division | 2 | 84 | Promoted |
| 2000-01 | 2nd Division | 3 | 86 | |
| 1999-00 | 2nd Division | 10 | 62 | |
| 1998-99 | 2nd Division | 11 | 61 | |
| 1997-98 | 1st Division | 24 | 42 | Relegated |
| 1996-97 | 1st Division | 18 | 57 | |
| 1995-96 | 1st Division | 19 | 56 | |
| 1994-95 | 1st Division | 2 | 79 | |
| 1993-94 | 2nd Division | 1 | 89 | Promoted |
| 1992-93 | 2nd Division | 8 | 69 | |
| 1991-92 | 3rd Division | 12 | 61 | Promoted |
| 1990-91 | 3rd Division | 15 | 59 | |
| 1989-90 | 3rd Division | 10 | 64 | |
| 1988-89 | 3rd Division | 18 | 56 | |
| 1987-88 | 2nd Division | 22 | 42 | Relegated |
| 1986-87 | 2nd Division | 13 | 53 | |
| 1985-86 | 3rd Division | 1 | 94 | Promoted |
| 1984-85 | 3rd Division | 9 | 69 | |
| 1983-84 | 4th Division | 3 | 82 | Promoted |
| 1982-83 | 3rd Division | 21 | 53 | Relegated |
| 1981-82 | 3rd Division | 12 | 62 | |
| 1980-81 | 3rd Division | 10 | 46 | |
| 1979-80 | 3rd Division | 7 | 48 | |
| 1978-79 | 4th Division | 1 | 65 | Promoted |
| 1977-78 | 4th Division | 8 | 50 | |
| 1976-77 | 3rd Division | 21 | 35 | Relegated |
| 1975-76 | 4th Division | 3 | 60 | Promoted |
| 1974-75 | 4th Division | 7 | 52 | |
| 1973-74 | 4th Division | 6 | 51 | |
| 1972-73 | 4th Division | 7 | 52 | |
| 1971-72 | 4th Division | 16 | 42 | |
| 1970-71 | 3rd Division | 21 | 39 | Relegated |
| 1969-70 | 3rd Division | 8 | 53 | |
| 1968-69 | 3rd Division | 14 | 43 | |
| 1967-68 | 3rd Division | 5 | 51 | |
| 1966-67 | 3rd Division | 4 | 53 | |
| 1965-66 | 3rd Division | 8 | 51 | |
| 1964-65 | 3rd Division | 13 | 46 | |
| 1963-64 | 3rd Division | 6 | 52 | |
| 1962-63 | 3rd Division | 20 | 40 | |
| 1961-62 | 3rd Division | 7 | 53 | |
| 1960-61 | 3rd Division | 18 | 40 | |
| 1959-60 | 3rd Division | 11 | 46 | |
| 1958-59 | 3rd Division | 6 | 50 | |
| 1957-58 | 3rd Division S | 5 | 55 | |
| 1956-57 | 3rd Division S | 13 | 45 | |
| 1955-56 | 3rd Division S | 17 | 39 | |
| 1954-55 | 3rd Division S | 18 | 41 | |
| 1953-54 | 3rd Division S | 8 | 49 | |
| 1952-53 | 3rd Division S | 11 | 46 | |
| 1951-52 | 3rd Division S | 2 | 61 | |
| 1950-51 | 3rd Division S | 3 | 57 | |
| 1949-50 | 3rd Division S | 10 | 42 | |
| 1948-49 | 3rd Division S | 2 | 55 | |
| 1947-48 | 3rd Division S | 10 | 41 | |
| 1946-47 | 3rd Division S | 9 | 43 | |
| 1939-46 | - | - | - | WWII |
| 1938-39 | 3rd Division S | 5 | 46 | |
| 1937-38 | 3rd Division S | 6 | 51 | |
| 1936-37 | 3rd Division S | 5 | 49 | |
| 1935-36 | 3rd Division S | 3 | 54 | |
| 1934-35 | 3rd Division S | 2 | 53 | |
| 1933-34 | 3rd Division S | 3 | 54 | |
| 1932-33 | 3rd Division S | 4 | 51 | |
| 1931-32 | 3rd Division S | 2 | 55 | |
| 1930-31 | 2nd Division | 21 | 30 | Relegated |
| 1929-30 | 2nd Division | 19 | 35 | |
| 1928-29 | 2nd Division | 15 | 39 | |
| 1927-28 | 2nd Division | 18 | 35 | |
| 1926-27 | 2nd Division | 14 | 40 | |
| 1925-26 | 3rd Division S | 1 | 57 | Promoted |
| 1924-25 | 3rd Division S | 14 | 38 | |
| 1923-24 | 3rd Division S | 18 | 35 | |
| 1922-23 | 3rd Division S | 19 | 34 | |
| 1921-22 | 3rd Division S | 13 | 38 | |
| 1920-21 | 3rd Division | 20 | 31 | |
References:
Premier League by Gunnar Persson
Image sources:
Unknown