Sheffield United FC
The second established football club in Sheffield, Sheffield United FC, was the first English football club with "United" in its name. The reason for the name was that many parts joined to form a club. They have won the British top league once and the FA Cup four times.
Basic facts
Founded: 1889
Country: England
City: Sheffield
Home grounds
Bramall Lane (1889-)
Main trophies
First Division/Premier League: 1
FA Cup: 4
Prominent players
William Foulke, Tony Currie, Alan Woodward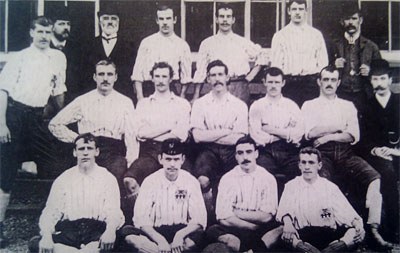 History
The Sheffield United club was founded in 1889, 32 years after Sheffield Wednesday. The 1890s was the best decade for the club. The won the Division One once (1897-98) and was twice the runners-up. Ten years after its establishment, Sheffield won their first FA Cup. Since when the club has won the Cup three more times (1902, 1915 and 1925).
By Oscar Anderson
Trivia
Football clubs also founded in 1889

Wimbledon FC
Premier League record
| Season | Position | Points | Notes |
| --- | --- | --- | --- |
| 2015-16 | - | - | |
| 2014-15 | - | - | |
| 2013-14 | - | - | |
| 2012-13 | - | - | |
| 2011-12 | - | - | |
| 2010-11 | - | - | |
| 2009-10 | - | - | |
| 2008-09 | - | - | |
| 2007-08 | - | - | |
| 2006-07 | 18 | 38 | Relegated |
| 2005-06 | - | - | |
| 2004-05 | - | - | |
| 2003-04 | - | - | |
| 2002-03 | - | - | |
| 2001-02 | - | - | |
| 2000-01 | - | - | |
| 1999-00 | - | - | |
| 1998-99 | - | - | |
| 1997-98 | - | - | |
| 1996-97 | - | - | |
| 1995-96 | - | - | |
| 1994-95 | - | - | |
| 1993-94 | 20 | 42 | Relegated |
| 1992-93 | 14 | 52 | |
References:
Premier League by Gunnar Persson
Image sources:
Unknown