Vasas FC
Less known and decorated than other Budapest greats, Vasas may lack the titles of Ferencváros, MTK, Újpest or Honvéd, but they have left their mark on Hungarian football's history nonetheless, linking their name with the sixties, their undisputed golden decade.
Basic facts
Founded: 1911
Country: Hungary
City: Budapest

Home grounds
Illovszky Rudolf Stadion (1960-2016)
Szusza Ferenc Stadion (2017-)

Main trophies
Hungarian Championship: 6
Hungarian Cup (Magyar Kupa): 4
Mitropa Cup: 6

Prominent players
András Komjáti, Rudolf Illovszky, Gyula Szilágyi, Pál Berendy, Kálmán Ihász, Péter Török, Péter Galaschek, Béla Várady, Sándor Müller, László Sárosi, Dezső Bundzsák, János Farkas, Kálmán Mészöly, Tamás Juhár, Tibor Jelinek, Ferenc Mészáros, Lajos Puskás, Imre Mathesz, Ignác Izsó, János Szilágyi, László Kiss, László Kubala
Club records
Most games played: András Komjáti (443)
Top goalscorer: Gyula Szilágyi (295)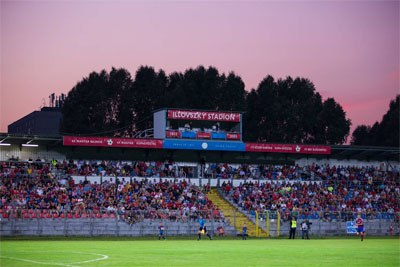 History
Vasas were founded in 1911 by members of the Hungarian Union of Iron Workers as Vas-és Fémmunkások Sport Clubja, "Sport Club of Iron and Metal Workers".
The club had to wait almost half a century to celebrate winning their first title. In 1955 they won the Hungarian Cup (Magyar Kupa in Hungarian), and two years later they finished top in the championship, a huge success, considering the level of other top Hungarian teams at the time.
International recognition
The fifties were when Vasas started making a name for themselves at international level as well, winning the Mitropa Cup in 1956, and repeating their success next year. In 1958 they had their biggest success outside Hungary's borders. It didn't include lifting a trophy, but they reached the semi-finals of the European Cup, today's Champions League, making excellent use of the ticket they had won the previous season to represent Hungary in the biggest European club competition, having won the 1957 national championship.
The second half of the fifties proved to be Vasas'… warm-up. In 1961 the team won their second Hungarian championship title. Before the sixties were over, the… fifth wheel of Budapest's football scene had won the championship three more times, dominating the Mitropa Cup as well, lifting its trophy on three more occasions.
Vasas remained successful in the seventies and eighties, even though they couldn't repeat their sixties' dominance. They won their last championship in 1977, their last Cup title in 1986, and another Mitropa Cup in 1983.
Advertisement

After the communism
The fall of communism hit Vasas hard, just like most other top clubs in Hungary. Since the early nineties, the team have never finished higher than third in the championship.Even worse, they have gotten relegated twice, failing both times to return to the top category right away, and spending a total of five season in the second division.
Player records
András Komjáti, an excellent defender back in the day, has worn Vasas' jersey more times than any other player (443), spending practically his entire 20-year career at the club, from 1970 to 1990 (he left just for one season, to play in Greece, in the mid-eighties.
Gyula Szilágyi has 295 goals to his name playing for Vasas from 1945 to 1960. He was happy to be a member of the team when they won their first national and international titles, but sadly for him, just when the sixties, Vasas' golden decade, started, he was turning 37, and it was time to retire.
Rudolf Illovszky ended his career with less appearances than Komjáti and – way – less goals scored than Szilágyi, but, after being an important member of the team from 1941 to 1956, he soon took over as coach, and linked his name with Vasas' best time of all, the sixties. The day he turned 80, in February 2002, he had the honor of seeing Vasas' stadium renamed after him. He died six years later from pneumonia, aged 86.
Last, this player spent just one season at Vasas, in times when he wasn't the world football legend he ended up becoming, but he can be called the biggest player to have worn the club's jersey. László Kubala scored ten goals in 20 games for Vasas during the 1948-49 season, just before moving to Italy's Pro Patria. Two years later he was joining Barcelona, where he is still considered one of the club's most prominent figures, despite the fact that through the years an endless number of top players have played with the Blaugrana jersey.
By Dimitris Basias
Logo

Probably the most interesting detail about Vasas' logo has to do with the … peculiarity surrounding the club's name. "V" and "S" stick out of "VASAS", with a "C" almost as big right below. "Vasas Sport Club" (SC) is a short version of the club's original name, given in 1911, but nowadays they have adopted "FC" instead, including the words "FUTBALL CLUB" in their latest logo, in a big white circle surrounding the older crest, while also adding the name of Budapest at the bottom.
Trivia
Football clubs also founded in 1911
External links
References:
https://en.wikipedia.org/wiki/Vasas_SC
https://hu.wikipedia.org/wiki/Vasas_SC
http://www.vasasfc.hu/en/history
https://hu.wikipedia.org/wiki/Komjáti_András
https://hu.wikipedia.org/wiki/Szilágyi_Gyula_(labdarúgó)
https://en.wikipedia.org/wiki/Rudolf_Illovszky
https://en.wikipedia.org/wiki/Illovszky_Rudolf_Stadion
https://en.wikipedia.org/wiki/László_Kubala
Image sources:
Vasasfc.hu