Wigan Athletic FC
Wigan Athletic has been a member of the English Football League since 1978. Their best result, a tenth position in the top division, was achieved in 2006. Besides that, their biggest merit is the FA Cup victory in the 2012-13 season after beating Manchester City in the final.
Basic facts
Founded: 1932
Country: England
City: Wigan
Home grounds
Springfield Park (1932-1999)
JJB Stadium (1999-2009)
DW Stadium (2009-)
Main trophies
FA Cup: 1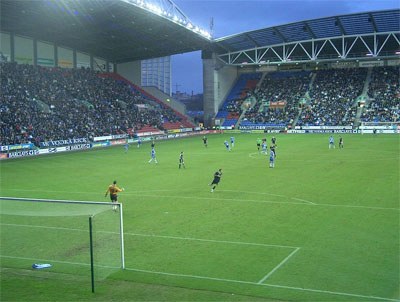 History
When Wigan Athletic started its activity in 1932, which is relatively late for an English football club, had other local clubs as Wigan County, Wigan Town, Wigan United and Wigan Borough existed for a while.
By Oscar Anderson
Premier League record
| Season | Position | Points | Notes |
| --- | --- | --- | --- |
| 2015-16 | - | - | |
| 2014-15 | - | - | |
| 2013-14 | - | - | |
| 2012-13 | 18 | 36 | Relegated |
| 2011-12 | 15 | 43 | |
| 2010-11 | 16 | 42 | |
| 2009-10 | 16 | 36 | |
| 2008-09 | 11 | 45 | |
| 2007-08 | 14 | 40 | |
| 2006-07 | 17 | 38 | |
| 2005-06 | 10 | 51 | |
| 2004-05 | - | - | |
| 2003-04 | - | - | |
| 2002-03 | - | - | |
| 2001-02 | - | - | |
| 2000-01 | - | - | |
| 1999-00 | - | - | |
| 1998-99 | - | - | |
| 1997-98 | - | - | |
| 1996-97 | - | - | |
| 1995-96 | - | - | |
| 1994-95 | - | - | |
| 1993-94 | - | - | |
| 1992-93 | - | - | |
References:
Premier League by Gunnar Persson
Image sources:
Bill Boaden