Cameroon
With several World Cup showings and one quarter-final appearance, Cameroon is undoubtedly one of the most reputable football teams from the African continent. This is supported by their continued success at the Africa Cup of Nations, where they won many titles. They're often referred to as the Indomitable Lions, a nickname inspired by the most famous animal in the country. They play their home matches in traditional green-red kits.
Main trophies
Africa Cup of Nations: 5
Player records
Most games played: Rigobert Song (137)
Top goalscorer: Samuel Eto'o (56)
Stats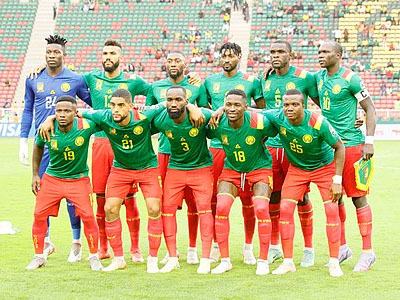 History
Early days
Cameroon played its first documented match in 1956, losing to Belgian Congo 2-3. A few years later, the country gained independence from France and Britain, establishing itself as the Federal Republic of Cameroon. By 1963, the Cameroonian Football Federation was accepted into CAF and FIFA. Their first major tournament was the 1970 AFCON, where they didn't make it past the group phase despite winning two of their three matches.
After a decade of missing out on major tournaments, Cameroon made it to the 1982 World Cup. Their group consisted of Peru, Poland, and eventual champions Italy. Despite going unbeaten in their inaugural appearance, three draws weren't enough to qualify for the knockout phase. Though Italy also finished the group with three points, their 2-2 goal difference was slightly better than Cameroon's 1-1.
Advertisement

Rise of the Lions
In the following period, Cameroon fully grew into its "Indomitable Lions" nickname. Led by captain Théophile Abega, they claimed their first AFCON title in 1984. After taking second place in their group, they defeated Algeria on penalties before overturning a 0-1 deficit and defeating Nigeria 3-1. After finishing as runners-up two years later, they repeated as champions in 1988 by outlasting Nigeria 1-0.
These titles -- as well as the high level of play -- gave Cameroon a boost of confidence before the 1990 World Cup. They were drawn into a group containing defending champions Argentina, the Soviet Union, and Romania. In their opener, Cameroon shocked Argentina by taking the lead and keeping it until the end of the game. With a 2-1 victory over Romania, they secured first place despite a 0-4 loss to the Soviet Union.
In the round of 16, Roger Milla scored a brace in the extra time to lift Cameroon over Colombia. This victory made Cameroon the first African team to reach the World Cup quarter-finals, where they were to face off against England. Though their opponents scored first, Cameroon took the lead during a furious 4-minute spell in the second half. Still, England managed to equalize and eventually win the game in extra time via Gary Lineker.
Sustained success
Following this showing, Cameroon continued to be a regular World Cup competitor. From 1994 to 2014, they made it to five out of six World Cups. However, they were unable to make the second round in any of these five appearances. They came the closest in 2002, where a 1-1 draw against Ireland and a 1-0 victory against Saudi Arabia weren't enough to advance. In the final round, a 0-2 loss to Germany knocked them out of the tournament.
This era saw Cameroon continue to be a force on the continent, winning two consecutive AFCON titles in 2000 and 2002. Both of these victories were the result of successful penalty shootouts, with Nigeria and Senegal the defeated parties. In 2008, they finished as runners-up to Egypt, losing the final match 0-1. Overall, the team made it to seven consecutive quarter-finals from 1998 to 2010.
In 2017, Cameroon won its fifth AFCON title. Despite some uninspired showings during the group phase, the team found its momentum in the knockout round. After defeating Senegal on penalties in the quarter-finals and prevailing 2-0 over Ghana, they faced the Salah-led Egypt in the final. Despite their opponents taking the lead early on, Cameroon came back and won the game on a Vincent Aboubakar winner just before extra-time.
FIFA World Cup results
Cameroon has participated eight times in the World Cup (FIFA World Cup qualification not included).
Cameroon's performances in the World Cup

| Year | Result |
| --- | --- |
| 2022 | Group Stage |
| 2018 | Not qualified |
| 2014 | Group Stage |
| 2010 | Group Stage |
| 2006 | Not qualified |
| 2002 | Group Stage |
| 1998 | Group Stage |
| 1994 | Group Stage |
| 1990 | Quarter-finals |
| 1986 | Not qualified |
| 1982 | Group Stage |
| 1978 | Did not participate |
| 1974 | Did not participate |
| 1970 | Did not participate |
| 1966 | Withdrew |
| 1962 | Did not participate |
| 1958 | Did not participate |
| 1954 | Did not participate |
| 1950 | Did not participate |
| 1938 | Did not participate |
| 1934 | Did not participate |
| 1930 | Did not participate* |
By Martin Wahl
Logo

The badge of the national team resemblance the national flag with green, red and yellow colors in horizontal grouping and with a star in the center. In the upper part the word "CAMEROUN" is visible followed by "FECA FOOT" in the bottom part, standing for Fédération Camerounaise de Football.
External links
References:
https://en.wikipedia.org/wiki/Cameroon_national_football_team
https://en.wikipedia.org/wiki/Cameroon_at_the_FIFA_World_Cup
Image source:
Fabrice2005