World Cup 1938
The third World Cup in football took place in France 4-19 June. The fact that two World Cups in a row were held in Europe was met with anger in South America that had expected the tournament to be played in their continent every second time. This led to a boycott from Argentina and Uruguay.
Official poster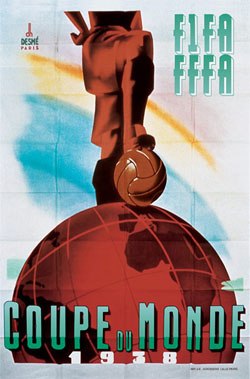 Participating teams
Austria (abolished)
Belgium
Brazil
Cuba
Czechoslovakia
Dutch East Indies (Indonesia)
France
Germany
Hungary
Italy
Netherlands
Norway
Poland
Romania
Sweden
Switzerland
1st, 2nd and 3rd places
Top scorers
Leônidas (7 goals)
György Sárosi (5 goals)
Gyula Zsengeller (5 goals)
Silvio Piola (5 goals)
Cities and stadiums
Paris (Stade Olympique de Colombes and Parc des Princes)
Marseille (Stade Vélodrome )
Lyon (Stade Gerland)
Toulouse (Stade Chapou)
Bordeaux (Parc Lescure)
Strasbourg (Stade de la Meinau)
Le Havre (Stade Municipal)
Reims (Vélodrome Municipal)
Lille (Stade Victor Boucquey)
Average attendance: 20,889
Background
In total 16 teams were participating after a qualification that included 37 teams (the host nation France and the reigning champions Italy was directly qualified). The World Cup in 1938 would be dominated by European nations, 13 of 16 teams were European.

The most exotic team to participate was Dutch East Indies (Indonesia) that also became the first Asian team to participate in the World Cup. They had qualified since all other teams in Asia withdrew.

Spain that was affected by a civil war were absent and the turbulent political climate in Europe that stood in the doorway to a great war could be noticeable. Most directly so since Austria just before the start of the tournament was annexed by the Nazi Germany and Austria was for that reason abolished. It was also noticeable in the games that included Germany or Italy by an upset audience. The Italian players made fascist salutes before the games and when they had to change to the away team shirt against France in the Quarter-finals, they would not play in white shirts as usual but black – the fascist color.
Format
The format for the competition was a knock-out tournament. If the match was a tie after regular match time a period of 30 minutes extra time would take place. If the match still wasn't decided after extra time a rematch would be arranged the following day (penalty shoot-out was not introduced until 1978).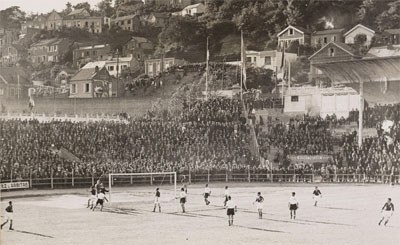 Cities and arenas
The matches would be played in ten French cities and on nine stadiums (see "Cities and stadiums" box for overview). However, since one match was canceled, no match was played in Lyon. This was the match between Austria and Sweden. The final would be played in Paris at Stade Olympique de Colombes that had a capacity of 60,000.
Tournament
On the sporting aspects, it could be stated that Brazil for the first time made a great impact in World Cup football and with a crowd-pleasing style reached far in the tournament.

The biggest surprise was probably the Cuban victory against Romania. But tired after a replay match and playing on a muddy pitch Cuba wouldn't stand for another surprise in the quarterfinals, instead they got slaughtered by Sweden.
Stats
FIFA World Cup 1938 would include 18 matches in which 84 goals were scored (4.66 per match). Four players were sent of during the tournament.
Advertisement

Results
First round, places 9-19: Norway, Belgium, Poland, Netherlands, Dutch East Indies, Germany, Austria, Romania.

Quarter-finals, places 5-8: France, Czechoslovakia, Switzerland, Cuba.

Italy and Hungary would win the Semi-finals and in the match of third place Brazil would beat Sweden with 4-2.

The final was played between Italy and Hungary in front of 45 124 persons. The match was finally won by Italy after two goals by Gino Colaussi and Silvio Piola each. Hence, Italy would defend their World Champion title and become the first team with two World Cup titles. Because of the Second World War, the next World Cup had to wait until 1950.
Show matches and results
Hide matches and results
First round
Italy – Norway 2–1 a.e.t
France – Belgium 3–1
Switzerland – Germany 1–1 a.e.t
Brazil – Poland 6–5 a.e.t
Czechoslovakia – Netherlands 3–0 a.e.t
Cuba – Romania (3–3) 2–1 after replay
Hungary – Dutch East Indies 6–0
Cuba – Romania 2–1
Switzerland – Germany (1–1) 4–2 after replay

Quarter Finals
Hungary – Switzerland 2–0
Brazil – Czechoslovakia 1–1 a.e.t
Italy – France 3–1
Sweden – Cuba 8–0
Brazil – Czechoslovakia (1–1) 2–1 after replay

Semi-finals
Hungary – Sweden 5–1
Italy – Brazil 2–1

Third place match
Brazil – Sweden 4–2

Final
Italy – Hungary 4–2
The squad of Italy (champions):
Carlo Ceresoli (Goalkeeper)
Guido Masetti (Goalkeeper)
Aldo Olivieri (Goalkeeper)
Alfredo Foni (Defender)
Eraldo Monzeglio (Defender)
Pietro Rava (Defender)
Michele Andreolo (Midfielder)
Bruno Chizzo (Midfielder)
Aldo Donati (Midfielder)
Mario Genta (Midfielder)
Ugo Locatelli (Midfielder)
Giuseppe Meazza (Midfielder)
Renato Olmi (Midfielder)
Mario Perazzolo (Midfielder)
Pietro Serantoni (Midfielder)
Sergio Bertoni (Forward)
Amedeo Biavati (Forward)
Gino Colaussi (Forward)
Giovanni Ferrari (Forward)
Pietro Ferraris (Forward)
Pietro Pasinati (Forward)
Silvio Piola (Forward)
Vittorio Pozzo (Head coach)
More World Cups
References:
https://en.wikipedia.org/wiki/1938_FIFA_World_Cup
https://en.wikipedia.org/wiki/Austria_national_football_team
VM-boken by Jesper Hoegstrom
Image source:
Nationaal Archief