World Cup 2022
The World Cup 2022 was the 22nd edition of the FIFA football tournament and was held in Qatar in 2022 between 20 November-18 December. It was the first World Cup tournament that wasn't played during the summer due to weather conditions in the host country. In total 210 national teams were involved in the qualification tournament, which was reduced to 32 teams for the final tournament. In total, 64 matches was played during the final tournament.
Official poster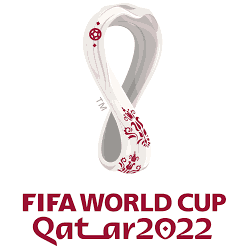 Participating teams
Argentina
Australia
Belgium
Brazil
Cameroon
Canada
Costa Rica
Croatia
Denmark
Ecuador
England
France
Germany
Ghana
Iran
Japan
Korea Republic
Mexico
Morocco
Netherlands
Poland
Portugal
Qatar
Saudi Arabia
Senegal
Serbia
Spain
Switzerland
Tunisia
Uruguay
USA
Wales
1st, 2nd and 3rd places
Top scorers
Kylian Mbappé (8 goals)
Lionel Messi (7 goals)
Julián Álvarez (4 goals)
Olivier Giroud (4 goals)
Background
The choice of choosing Quatar as host country for the World Cup was criticized both in regards of the weather conditions and the bidding process which was circled with corruptions rumors. The next issue was arising during the preparation and building the new stadiums and infrastructure in which migrant workers was involved. The working conditions was very poor and according to reports over a thousand migrant workers in Quatar died during the years that followed the tournament.

All previous World Cup editions has been held during the summer, but the high temperatures in Qatar is the reason for the decision to arranged the tournament in winter time. In the summer, the temperature in Qatar can rise over 45°C (113°F). The average temperature is much lower in November and December, around 20-25°C (68-78°F) with an average maximum in November near 29°C (84°F).
Format
The format was copied from previous tournaments. A first round with a group stage consisting of eight four-team groups was proceeded with a knockout phase.
Cities and arenas
In total 8 stadiums in five cities were used in the tournament:
Lusail Iconic Stadium, Lusail (capacity: 80,000)
Al Bayt Stadium, Al Khor (capacity: 60,000)
Education City Stadium, Al Rayyan (capacity: 40,000)
Ahmed Bin Ali Stadium, Al Rayyan (capacity: 40,000)
Al Thumama Stadium, Doha (capacity: 40,000)
Al Janoub Stadium, Al Wakrah (capacity: 40,000)
Khalifa International Stadium, Al Rayyan (capacity: 40,000)
Stadium 974, Doha (capacity: 40,000)
The semi-finals will be played at Lusail Iconic Stadium and Al Bayt Stadium. The final is played at Lusail Iconic Stadium in Lusail, Qatar.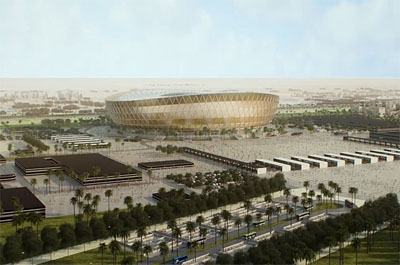 Tournament
The host nation Qatar did their first World Cup, but didn't manage to collect any points.

The group phase saw several of the big nations fall. Germany, Belgium and Uruguay would all miss chance to advance to the Round of 16. After an impressive performance in the Round of 16 (4-1 versus South Korea), Brazil would be out in second the first playoff round after a penalty shoot-out against Croatia.

Another team in trouble early on was Argentina that surprisingly lost to Saudi Arabia 1-2 after a 1-0 lead. Argentina would successively play better and better and led by Leo Messi finally win the whole tournament.

Morocco was the biggest surprise team and become historical as the first team to reach the semi-final in the World Cup after knocked out Spain and Portugal.
Advertisement

Stats
FIFA World Cup 2022 included 64 matches in which 172 goals were made (2.69 goals per match).
Results
Argentina won the final against France on a penalty shoot-out after 2-2 in full time and 3-3 after extra time.
More World Cups
References:
https://www.fifa.com/tournaments/mens/worldcup/qatar2022
https://en.wikipedia.org/wiki/2022_FIFA_World_Cup
Image source:
https://commons.wikimedia.org