AFC Ajax
Even outside the Netherlands, not many clubs can compete with the kind of history AFC Ajax have. With over 50 major domestic trophies and four European Cups, Ajax is the seventh most successful football club of the 20th century. They have also won the Cup Winners' Cup and the UEFA Cup, which makes them one of only four clubs to win all three major UEFA competitions.
Basic facts
Founded: 1900
Country: Netherlands
City: Amsterdam
Home grounds
"Het Veldje" (1893–1900)
Amsterdam-Noord (1900–1907)
Het Houten Stadion (1907–1934)
De Meer (1934–1996)
Olympisch Stadion (1934–1996)
Amsterdam ArenA (1996–)
Main trophies
Netherlands Football League Championship/Eredivisie: 35
KNVB Cup: 19
European Cup: 3
Champions League: 1
UEFA Cup: 1
European Cup Winners' Cup: 1
See details
Hide details
Netherlands Football League Championship: 1917–18, 1918–19, 1930–31, 1931–32, 1933–34, 1936–37, 1938–39, 1946–47
Eredivisie: 1956–57, 1959–60, 1965–66, 1966–67, 1967–68, 1969–70, 1971–72, 1972–73, 1976–77, 1978–79, 1979–80, 1981–82, 1982–83, 1984–85, 1989–90, 1993–94, 1994–95, 1995–96, 1997–98, 2001–02, 2003–04, 2010–11, 2011–12, 2012–13, 2013–14
KNVB Cup: 1916–17, 1942–43, 1960–61, 1966–67, 1969–70, 1970–71, 1971–72, 1978–79, 1982–83, 1985–86, 1986–87, 1992–93, 1997–98, 1998–99, 2001–02, 2005–06, 2006–07, 2009–10
European Cup: 1970–71, 1971–72, 1972–73
UEFA Champions League: 1994–95
UEFA Cup: 1991–92
UEFA Cup Winners' Cup: 1986–87

Prominent players
Cor van der Hart, Sjaak Swart, Velibor Vasović, Arie Haan, Johan Cruyff, Johan Neeskens, Johnny Rep, Frank Rijkaard, Jesper Olsen, Marco van Basten, Ronald Koeman, Dennis Bergkamp, Ronald de Boer, Stefan Pettersson, Frank de Boer, Edgar Davids, Michael Reiziger, Edwin van der Sar, Clarence Seedorf, Clarence Seedorf, Marc Overmars, Jari Litmanen, Nwankwo Kanu, Patrick Kluivert, Dani, Wesley Sneijder, Michael Laudrup, Jesper Grønkjær, Brian Laudrup, Zlatan Ibrahimović, Jaap Stam, Luis Suárez
Club records
Most games played: Sjaak Swart (603)
Top goalscorer: Piet van Reenen (273)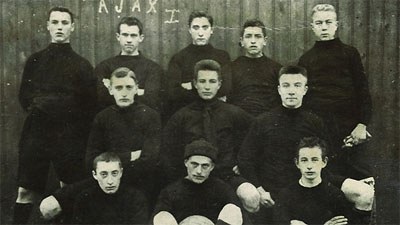 History
Amsterdamsche Football Club Ajax was formed in 1900 (the Ajax name was taken after a figure in Greek mythology). The distinguished white shirt with a broad red stripe was designed in 1911.

It didn't take too long to assert some early success, which coincide with the arrival of Jack Reynolds at the club; save for two short breaks, the legendary Englishman managed the club from 1915 to 1947. During this time Ajax slowly grew into the role of the best club in the country, a process that culminated with their first golden era in the 30s. With Reynolds at the helm, Ajax claimed eight League titles and two KNVB Cups (KNVB Beker is the name of the competition in Dutch).
After a slight slump, Ajax returned to the football scene at around the same time professionalism was introduced to the Netherlands (1955).
Michels, Cruyff and "Total Football"
While they won two Eredivisie titles in 1957 in 1960, as well as their third KNVB Cup in 1961, it wasn't until the appointment of Rinus Michels as manager that Ajax truly became something special. With Michels instilling his famous "Total Football" philosophy and Johan Cruyff serving as its conductor, Ajax cruised to six Eredivisie titles and four KNVB Cups. They also made the history books by claiming three consecutive European Cups from 1971 to 1973, thus becoming one of only five clubs to successfully defend the trophy. (And also one of the few clubs that have the trophy permanently in their collection, the rule is that a club that win the competition five times in total or three times in a row keep the trophy.)

The Total Football of Ajax meant that each player (except the goalkeeper of course) contributed to the field and could take over each other roles. In other words, a defender could for a while serve as an offender and vice versa. This was not the same thing as a complete abandoning of positions, but the positions would not limit the players, instead overlaps were an option and the back line would be compressed with the midfield which resulted in faster ball deliverance from defenders to attackers. Total Football was however not a Dutch invention from scratch. As usual, there were forerunners and here can Hungary's national team be mentioned as an inspiration for Michels.

For some years, Ajax would be the dominating force in European club football. This era, later referred to as "Gloria Ajax", reached its end with Cruyff's and Neesken's departure for Barcelona in 1973 and 1974.
A new generation
Towards the end of the 70s, Ajax would be in the spotlight again after the return of Cruyff, this time as the coach, and with a new generation of talented youngsters led by Wim Kieft, Frank Rijkaard and Marco van Basten. Their attractive brand of offensive football made them fan favorites wherever they went, and the results were as good as ever. Between 1977 and 1987, Ajax won six Eredivisie titles, four KNVB Cups and their first and only UEFA Cup. The emergence of PSV in the later half of the 80s and the departures of Rijkaard and Van Basten saw the club decline a bit, but they still managed to top off the decade by clinching an Eredivisie title in 1990.

With Louis Van Gaal taking over as manager in 1991 and instilling his own unique philosophy at the club, further success was sure to follow – although his pragmatic approach to football wasn't appreciated by the fans who wanted see their team play offensive. He quickly formed an entirely new team, from Edwin van der Sar between the sticks to Dennis Bergkamp as a striker. Between 1991 and 1999, this ensemble of talented youngsters won four Eredivisie titles, three KNVB Cups, a UEFA Cup and a Champions League. The high point was the Champions League victory in 1995 after beating AC Milan in the final.

In August 1996 the team moved from De Meer Stadion, that had served as home field since 1934, to the Amsterdam ArenA that had more than twice the capacity (53,502 seats).

Compared to their previous golden eras, the 00s proved to be slightly disappointing for the club's fans. With the most important pieces of Van Gaal's team departing from the club and the meteoric rise of PSV, Ajax had to settle for two Eredivisie titles and four KNVB Cups. Still, the appointment of Frank De Boer as manager in 2010 changed things for the better in all aspects, as evidenced by the four consecutive Eredivisie titles that followed.
Listen to this article
By Martin Wahl
Advertisement

Logo

The current logo (left image) has been in use since 1990, after a redesign gave it a more simplistic look. The head of the Greek hero Ajax was in the previous logo depicted in a realistic marble style. The head of the Greek hero was added to the logo in the 1920s, before that a football player was used instead (right image).
AFC Ajax timeline
1900AFC Ajax is established.
1911First season in the Dutch first division.
1917First KNVB Cup title.
1918First time national league champions.
1934The club move to the De Meer stadium.
1962First European cup title (Intertoto Cup).
1964Johan Cruijff play his first season for Ajax.
1971First European Cup title.
1987First European Cup Winners' Cup title.
1992First UEFA Cup title.
1995Winning their first Champions League.
1996The club move to the Amsterdam ArenA.

Records and statistics
Trivia
Football clubs also founded in 1900:

FC Bayern Munich


Borussia Mönchengladbach


RCD Espanyol


FC Kaiserslautern


SS Lazio
› Football clubs ordered after establishment
Club nicknames:
Godenzonen (Sons of the Gods)
External links
References:
Club Soccer 101: The Essential Guide to the Stars, Stats, and Stories of 101 of the Greatest Teams in the World by Luke Dempsey
https://en.wikipedia.org/wiki/AFC_Ajax
https://en.wikipedia.org/wiki/Stadiums_of_AFC_Ajax
Image source:
Unknown