Cagliari Calcio
The Italian soccer club Cagliari Calcio was established in 1920 on the island of Sardinia. They have won Serie A once, in the season 1968-1970 and in addition Serie B and Serie C in some occasions. They have also won the Coppa Italia once, in the season 1968-1969. The best result in European competitions was made by reaching the semi-finals in 1993-1994 UEFA Cup.
Basic facts
Founded: 1920
Country: Italy
City: Cagliari
Home grounds
Stadio Amsicora (1920-1970)
Stadio Sant'Elia (1970-2016)
Sardegna Arena (2017-)
Main trophies
Serie A: 1
Coppa Italia: 1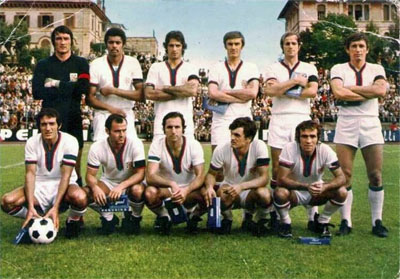 History
The best period for Cagliaria was during the second half of the 1960s and the first years of the 1970s. One reason was the striker Luigi Riva who made 164 goals for the team between 1963 and 1976.
By Oscar Anderson
Trivia
Football clubs also founded in 1920

Ruch Chorzów SA
Serie A record
| Season | Position | Points | Notes |
| --- | --- | --- | --- |
| 2017-18 | 16 | 39 | |
| 2016-17 | 11 | 47 | |
| 2015-16 | - | - | |
| 2014-15 | 18 | 34 | Relegated |
| 2013-14 | 15 | 39 | |
| 2012-13 | 11 | 47 | |
| 2011-12 | 15 | 43 | |
| 2010-11 | 14 | 45 | |
| 2009-10 | 16 | 44 | |
| 2008-09 | 9 | 53 | |
| 2007-08 | 14 | 42 | |
| 2006-07 | 17 | 40 | |
| 2005-06 | 15 | 39 | |
| 2004-05 | 12 | 44 | |
| 2003-04 | - | - | |
| 2002-03 | - | - | |
| 2001-02 | - | - | |
| 2000-01 | - | - | |
| 1999-00 | 17 | 22 | Relegated |
References:
https://en.wikipedia.org/wiki/Cagliari_Calcio
https://en.wikipedia.org/wiki/Luigi_Riva
Image sources:
Unknown