KKS Lech Poznań
Having won all their numerous titles from 1982 onwards, Lech Poznań are rightfully considered one of the top three clubs in Polish football's modern times, and definitely one of the country's all-time "big five". Followed by dozens of thousands of passionate fans, and calling home one of Poland's most magnificent football-specific stadiums, the blue and white "Railwaymen" have reasons to believe that they will remain in the country's football elite for many years to come.
Basic facts
Founded: 1922
Country: Poland
City: Poznań
Home grounds
Grzybowa (1922-1934)
Dębiec (1934-1980)
July 22nd Stadium (1972-1980)
INEA Stadium (1980-)
Main trophies
Polish Championship: 9
Polish Cup: 5
Prominent players
Piotr Reiss, Teodor Anioła, Hieronim Barczak, Robert Lewandowski, Mirosław Okoński, Andrzej Juskowiak, Jerzy Podbrożny, Artjoms Rudņevs, Jarosław Araszkiewicz
Club records
Most games played: Hieronim Barczak (435)
Top goalscorer: Teodor Anioła (141)
History
Founded in 1922, Lutnia Dębiec was the original name of the club, which changed twice before 1930, when the State Railways practically took over, and the Polish word for "railways" was first included in the official name. In one form or another, it remained there until 1994, when, after almost six and a half decades, the Polish State Railways withdrew from the club.
In 2006, in an attempt to reconnect with the club's history, the board of directors changed the name one last time, to KKS Lech Poznań. The initials stand for Kolejowy Klub Sportowy ("Railway Sports Club"), while Lech is the name of the legendary founder of the Polish nation. The club is often referred to as Lech Poznan FC in English.
Lech are what someone could call a "late bloomer", in the sense that it took the club 60 whole years to win a major title. After finishing third in the Polish Championship in 1978 and reaching (but losing) the Cup Final in 1980, the time was ripe in 1982 to win the Cup and really start establishing themselves as a team to be taken seriously.
First Championship title
Next season, the first Cup title was followed by the first Championship title, while in 1984 they gathered all available silverware, winning a historic double.
More successes were meant to come in the late eighties and early nineties. Another Cup win in 1988, two legendary 1-1 draws against Barcelona in the second round of the UEFA Cup Winners' Cup a few months later (Lech were finally eliminated in a penalty shoot-out by the team that went on to lift the trophy that season), and an almost absolute dominance in the Championship for four years, winning three out of possible four titles from 1990 to 1993.
In 2004, after an eleven year drought, and led by one of the club's most prominent figures, striker Piotr Reiss, whose number 9 jersey was retired at Lech once he put an end to his career, the Poznan club won their fourth Cup, with a fifth one following in 2009, when Robert Lewandowski was also part of the team. That's actually where Borussia Dortmund got him from, in 2010.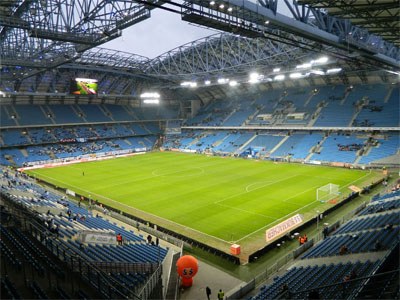 Starting in 2009, Lech went on to either win the Championship, or finish second, or reach the Cup Final, on a regular basis for years, with the 2014-15 season the best of them all, when they won their seventh Championship and came so close to repeating their 1984 double, only to lose to Legia in the Final.
By Dimitris Basias
Advertisement

Logo

What appears in the centre between the club's full name, is reminiscent of a locomotive, and a tribute to the strong link between Lech and the Polish railways. The latest version of the logo includes a silver star on top, one that represents the 10+ titles they have won, Championship and Cup ones combined.
Trivia
Football clubs also founded in 1922

FC Lokomotiv Moscow


FC Spartak Moscow
External links
References:
https://en.wikipedia.org/wiki/Lech_Poznań
https://pl.wikipedia.org/wiki/Lech_Poznań
https://en.wikipedia.org/wiki/Piotr_Reiss
http://www.lechpoznan.pl/from-1922-until-today,39.html
http://www.lechpoznan.pl/stadiums,40.html
Image source: Dimitris Basias