FC Spartak Moscow
Having won the Soviet Championship more times than any other Russian team back in USSR times, the Russian Championship more times than any of their rivals, and also having reached the semi-finals of all top three UEFA competitions, Spartak Moscow are rightly considered the most successful Russian club of all time.
Basic facts
Founded: 1922
Country: Russia
City: Moscow
Home grounds
Tomsky Stadium
Lokomotiv Stadium
Luzhniki Stadium
Otkrytie Arena (2014-)
Main trophies
Soviet Top League: 13
Russian Premier League: 9
Soviet Cup: 10
Russian Cup: 3
Prominent players
Nikita Simonyan, Igor Netto, Rinat Dasayev, Yegor Titov, Sergey Rodionov, Galimzyan Khusainov, Fyodor Cherenkov, Anatoly Krutikov, Yuri Gavrilov, Anatoli Ilyin, Yuri Sevidov, Roman Pavlyuchenko, Andrey Tikhonov, Georgi Yartsev, Vladimir Beschastnykh, Welliton, Dmitri Alenichev, Valeri Karpin, Aleksandr Mostovoi, Oleg Romantsev, Ilya Tsymbalar, Andrey Tikhonov, Nemanja Vidić
Club records
Most games played: Yegor Titov (445)
Top goalscorer: Nikita Simonyan (160)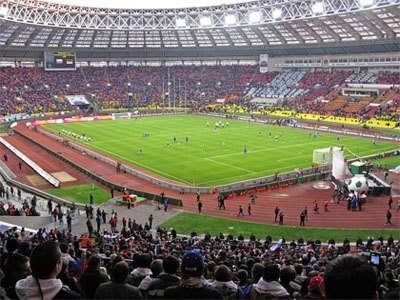 History
Football Club Spartak Moscow were founded in 1922 as the football branch of a much larger sports society called "Moscow Sport Circle". Unlike other clubs that had powerful sponsors like the army, the police, or the railways, Spartak were associated with simple workers, members of a trade union, something that earned them the title of "The People's Team".
Despite not being the person who officially founded the club in 1922, Nikolai Starostin is definitely the one who can be credited with Spartak's evolution from a simple group of players to a real football club. He and his three brothers are considered the heart and soul of Spartak in their early years, and the very fact that all four have their statues inside the stadium speaks volumes about their importance in the club's history.
The name itself, "Spartak", in use since 1935, inspired by Spartacus, the legendary Thracian gladiator, is credited to Nikolai Starostin, while according to some accounts even the club's logo was designed by the same man, before he found himself being targeted by the Communist regime, for, among other reasons, "attempting to drag bourgeois mores into Soviet sport".
Advertisement

Claiming titles, earning glory
FC Spartak Moscow won their first three Championship titles in the mid to late thirties, combining the last two in 1938 and 1939 with triumphs in the Soviet Cup. In the forties, right after World War II, they added two more Soviet Cups to their collection.
The fifties brought them even more glory, three Championships, two Cups, and finishing second in the Championship or reaching the Cup final the years they won no title. It was Nikita Simonyan's decade, a formidable striker, Spartak's all-time leading scorer.
Another Spartak great, Igor Netto, who started his career at the Moscow club next to Simonyan, stayed on until 1966, celebrating another Soviet Top League and two Soviet Cup titles.
Post-USSR era
When the USSR was dissolved, Spartak had reached an enviable 12 Championship titles, more than any other Russian club, and second only to Ukrainian side Dynamo Kyiv. They had also won the Soviet Cup more times (10) than any of their rivals, Dynamo Kyiv included (9).
If there has been though a decade that Spartak's name was practically a synonym of "Russian football", it was the nineties. Starting in 1992, the Moscow club won all but one Russian Premier League titles until 2001, nine in ten years, picking up two Russian Cups along the way.
Plus, the nineties brought them the biggest international fame in their history, reaching the semi-finals of the European Cup (today's Champions League) in 1991, the Cup Winners' Cup in 1993, and the UEFA Cup in 1998. If there is one name more associated with this golden age in Spartak's history more than any other, it's Oleg Romantsev, the team's coach from 1989 to 2003 (with a small break in 1996).
By Dimitris Basias
Logo

Today's logo has been in use since 2013, when Spartak were allowed to add three stars to the one they already had since 2003. Each star stands for five Championship titles won. Spartak have a total of 21 (Soviet time included). The ball inside the letter "C", which is Cyrillic for "S", is a 1998 addition.
Trivia
Football clubs also founded in 1922

KKS Lech Poznań


FC Lokomotiv Moscow
External links
References:
https://en.wikipedia.org/wiki/FC_Spartak_Moscow
https://ru.wikipedia.org/wiki/Спартак_(футбольный_клуб,_Москва)
https://en.wikipedia.org/wiki/Nikita_Simonyan
https://en.wikipedia.org/wiki/Igor_Netto
https://en.wikipedia.org/wiki/Oleg_Romantsev
http://www.spartak.com/main/club/82/
Image source:
Unknown