FC Porto
With 37 Primeira Ligas, 16 Taça de Portugals and four major European trophies, FC Porto can boast with a colorful and successful history. To this day, they are the only Portuguese club to win five league titles in a row, a feat they have achieved in the period from 1995 to 1999. Porto holds long-standing rivalries with the two other members of the Portuguese "Big Three": Benfica and Sporting.
Basic facts
Founded: 1893
Country: Portugal
City: Porto
Home grounds
Campo da Rainha 81906-1912)
Campo da Constituição (1913-1952)
Estádio das Antas (1952-2003)
Estádio do Dragão (2003-)
Main Trophies
Primeira Liga: 28
Taça de Portugal: 16
European Cup/UEFA Champions League: 2
UEFA Cup/UEFA Europa League: 2
See details
Hide details
Primeira Liga: 1934–35, 1938–39, 1939–40, 1955–56, 1958–59, 1977–78, 1978–79, 1984–85, 1985–86, 1987–88, 1989–90, 1991–92, 1992–93, 1994–95, 1995–96, 1996–97, 1997–98, 1998–99, 2002–03, 2003–04, 2005–06, 2006–07, 2007–08, 2008–09, 2010–11, 2011–12, 2012–13, 2017–18
Taça de Portugal: 1955–56, 1957–58, 1967–68, 1976–77, 1983–84, 1987–88, 1990–91, 1993–94, 1997–98, 1999–2000, 2000–01, 2002–03, 2005–06, 2008–09, 2009–10, 2010–11
European Cup: 1986–87, 2003–04
UEFA Champions League: 2003–04
UEFA Cup: 2002–03
UEFA Europa League: 2010–11
Prominent players
Hernâni Ferreira da Silva, João Domingos Pinto, Emil Kostadinov, Vítor Baía, Deco, Ricardo Carvalho, Domingos, João Moutinho
Club records
Most games played: João Pinto (587)
Top goalscorer: Fernando Gomes (347)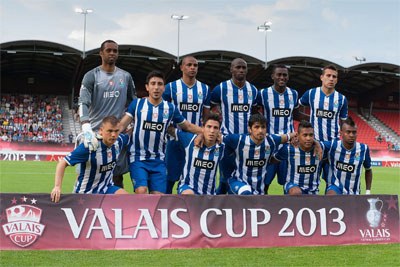 History
Though Porto was first formed in 1893, they soon entered a period of inactivity due to their president losing his enthusiasm for the club activities. The club was reactivated in 1907, at which point they started entering a number of local competitions and regional championships.

In 1935, Porto took part in the inaugural season of the Primeira Liga; by the end of the decade, their trophy cabinet was richer for three titles. Yet, these early successes did not lead to lasting domination, and Porto soon found themselves playing second fiddle to Benfica and Sporting. During the next three decades, they only managed to win two Primiera Liga titles and three Taça de Portugal trophies.

The returning of José Maria Pedroto as the club's manager in 1976 was the first omen of brighter days ahead. They won six trophies by the end of the 80s, more than they had managed in their first eight decades of existence. Moreover, they also claimed three Taça de Portugals, as well as their first European Cup with a 2-1 victory over the favored Bayern Munich.

The following decade was even more impressive, at least domestically speaking; with Benfica and Sporting in a major slump, Porto obliterated the opposition, claiming seven Primeira Ligas (the first two was under the management of Bobby Robson), and four Taça de Portugals.
Under José Mourinho
While Porto did manage to clinch the 2001 Taça de Portugal, a streak of middling results led to a change in the club's personnel, with José Mourinho taking over as manager in 2002. The following two years were arguably the greatest period in Porto's history. In his first season in charge, Mourinho led the club to a Treble by winning the Primeira Liga, the Taça de Portugal and the UEFA Cup. The following year, Porto successfully defended the league title and went one step further by claiming the Champions League with a comfortable 3-0 victory over Monaco in the final.

The departure of Mourinho and some of the best players from the championship-winning team at the end of the 2003/04 season was a tough pill to swallow, but Porto managed to recover in no time. During the subsequent ten years, the club won an additional seven Primeira Liga titles and four Taça de Portugal trophies. In 2011, they claimed a Europa League title by edging Braga 1-0 on a winning goal by Radamel Falcao.
By Martin Wahl
Logo

The logo of FC Porto consists of a crest with a blue ball in the background, a rather peculiar look. In the beginning, the logo only consisted of the blue ball with the club name's initials, but after a redesign the crest was added. The top of the crest is a crown with a green dragon lying – a symbol for the team.
Trivia
Football clubs also founded in 1893

Genoa CFC
External links
References:
https://en.wikipedia.org/wiki/FC_Porto
http://www.fcporto.pt/en/clube/historia/Pages/historia.aspx
Image source:
Ludovic Péron