Chile
With a foundation date of June 19, 1895, the Football Federation of Chile is the second oldest federation in South America. They've appeared at 9 World Cup championships, with their best finish being 3rd place on home soil in 1962. Chile also claimed two consecutive Copa América titles in 2015 in 2016, after close to a century of competing at the tournament. They're most commonly known as La Roja, or "The Red One."
Main trophies
Olympic football tournament: 1
Copa América: 2
Player records
Most games played: Alexis Sánchez (139)
Top goalscorer: Alexis Sánchez (46)
Stats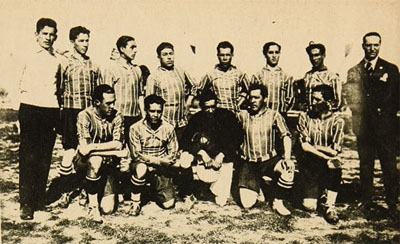 History
Getting started
In addition to being one of the first South American countries to create a Football Federation, Chile played a big role in establishing the football tradition on the continent. Along with Brazil, Argentina, and Uruguay, they founded CONMEBOL in 1916. That same year, those four countries took part in the first edition of the South American Championship. With one draw and two losses, Chile finished in last place.
In 1930, Chile was one of thirteen countries to participate at the inaugural World Cup. Despite defeating Mexico and France, they were unable to advance from the group due to a 1-3 loss to Argentina. After withdrawing from the following two World Cups, they returned in 1950. However, two 0-2 losses to England and Spain in the first two games of group stage paved the way for another disappointing performance.
Advertisement

World Cup hosts
Despite the Valdivia earthquake hitting Chile in 1960, they still got the chance to organize their first World Cup two years later. Unfortunately, this tournament is best remembered for constant violence on the pitch, which came to the fore in a group stage game between Chile and Italy. In a match that would later become known as the Battle of Santiago, the police had to intervene no less than four times. Chile won 2-0, securing its place in the knockout stage.
In the quarter-finals, Chile came victorious against European champions USSR. Their memorable run was ended by Brazil in the semi-finals, who came into the lead early and eventually won the game 4-2. The third-place match saw Chile face off against Yugoslavia, with Eladio Rojas scoring the winner in the 90th minute. This remains Chile's best performance in a World Cup to date.
El Maracanazo
Following their 1962 campaign, La Roja went on a disappointing streak. Out of the next six World Cups, they were knocked out in the group stage on three occasions (1966, 1974, 1982) and failed to qualify as many times (1970, 1978, 1986). Their Copa América record was more impressive, but they still were unable to claim the trophy. They finished as runners-up in 1979 and 1987, losing the finals to Paraguay and Uruguay, respectively.
The most infamous moment in Chile's football history occurred in 1990. In a World Cup qualifier against Brazil, Chilean goalkeeper Roberto Rojas fell to the ground, having seemingly been injured by fireworks from the stands. However, video footage showed that Rojas faked the injury, and FIFA awarded the victory to Brazil. In the aftermath, Rojas was banned from football for life, and Chile was suspended from the 1994 World Cup qualifiers.
Continental champions
Following this scandal, Chile participated at three more World Cups. In 1998, the team was led by two star strikers, Marcelo Salas and Iván Zamorano. Though they drew in all three of their group stage games, they managed to qualify for the round of 16 behind Italy. Once again, their run came to an end against eventual finalists Brazil, who dispatched them 4-1.
In 2010, two 1-0 victories over Switzerland and Honduras were enough for La Roja to return to the round of 16. However, their old rivals Brazil proved to be an insurmountable obstacle yet again, winning the game 3-0. Four years later, Chile advanced from the group for the third time in a row. On the way there, they defeated reigning champions Spain 2-0, knocking them out of the competition. In the round of 16, they lost to Brazil on penalties.
For all their bad luck at the World Cup, Chile made up for it at the Copa América. In 2015, they won the tournament for the first time in 99 years of competing at it, defeating Argentina on penalties in the final. They went on to repeat as champions the very next year, defeating the same opponent in the same way. On both occasions, Eduardo Vargas was the tournament's top scorer.
FIFA World Cup results
Chile has participated nine times in the World Cup (FIFA World Cup qualification not included).
Chile's performances in the World Cup

| Year | Result |
| --- | --- |
| 2022 | Not qualified |
| 2018 | Not qualified |
| 2014 | Round of 16 |
| 2010 | Round of 16 |
| 2006 | Not qualified |
| 2002 | Not qualified |
| 1998 | Round of 16 |
| 1994 | Suspended† |
| 1990 | Not qualified |
| 1986 | Not qualified |
| 1982 | Group Stage |
| 1978 | Not qualified |
| 1974 | Group Stage |
| 1970 | Not qualified |
| 1966 | Group Stage |
| 1962* | Third place |
| 1958 | Not qualified |
| 1954 | Not qualified |
| 1950 | Group Stage |
| 1938 | Decline to participate |
| 1934 | Decline to participate |
| 1930 | Group Stage |
By Martin Wahl
Logo

The logo has the form of a circle with a blue and red shield inside and with a star in the center. The blue, red and white colors are also used for the kit. In the circle "Federacion de Futbol de Chile" (Chile national football team), is written in uppercase letters.
External links
› Official website (N/A)
References:
https://en.wikipedia.org/wiki/Chile_national_football_team
https://en.wikipedia.org/wiki/History_of_the_Chile_national_football_team
Image source:
Los Sports