Ivory Coast
Though the Ivory Coast has long been a contending presence at the AFCON, their international output left something to be desired. However, their fortunes eventually changed. They made three consecutive World Cups from 2006 to 2014, recording three victories in the process. They also have two AFCON titles (1992 and 2015) and several other top 4 appearances. They're often recognized by their nickname (The Elephants) and traditional orange kits.
Main trophies
Africa Cup of Nations: 2
Player records
Most games played: Didier Zokora (123)
Top goalscorer: Didier Drogba (65)
Stats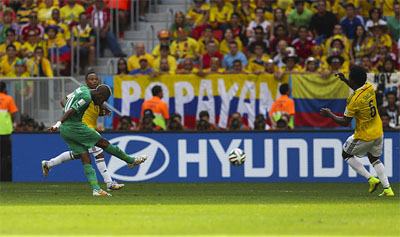 History
Early years
The Ivorian Football Federation was founded in 1960, shortly after the country gained independence from France. The national team played its first official match the same year, winning 3-2 against Dahomey (later known as Benin). The following year, Ivory Coast recorded an 11-0 victory against the Central African Republic, which remains the highest-margin win in their history. In 1964, they were officially admitted into FIFA.
One year later, Ivory Coast took part in its inaugural Africa Cup of Nations. It was a successful debut, as they placed second in their group and defeated Senegal in the third-place match. The following two AFCONs were similarly fruitful, as they came in third and fourth, respectively. However, this was followed by a long period of struggle, which included being disqualified from the 1978 edition of the tournament for fielding an ineligible player.
Advertisement

Taste of silverware
Despite hosting the AFCON in 1984, Ivory Coast failed to capitalize and was eliminated in the group stage. Still, this tournament served as somewhat of a turning point for the Elephants. In 1986, they finally made it past the group stage, only to be eliminated by old rivals Cameroon in the semi-finals. However, they managed to defeat Morocco 3-2 in the third-place match, repeating their best performances up to that point.
At the 1992 AFCON, an Ivorian squad led by a strike force of Joël Tiéhi and Abdoulaye Traoré advanced from its group and went past Zambia and Cameroon in the knockout stage. In the final, a goalless draw against Ghana paved the way to a spectacular penalty shootout, with Ivory Coast winning 11-10. This was the first time that every player on the field took a penalty in the final of a major international competition, but it wouldn't be the last.
The golden age
Following this title, Ivory Coast became a regular participant at the AFCON. Still, they wouldn't reach their first World Cup until 2006, when a new generation of players arrived at the scene. This squad included world-class players such as Didier Drogba and the Toure brothers, but they were unable to advance from the so-called "group of death" containing Argentina, the Netherlands, and Serbia and Montenegro.
A similar story played out in 2010, with the Elephants being drawn with Brazil, Portugal, and North Korea. Despite managing a 0-0 draw with Portugal and defeating North Korea 3-0, four points weren't enough to reach the knockout stage. This generation of players made one last push at the 2014 World Cup, but a 2-1 victory in their opener against Japan and two losses to Colombia and Greece weren't enough to qualify for the round of 16.
One year later, a relatively revamped Ivorian squad made waves at the 2015 AFCON. After advancing from the group stage with one victory and two draws, the Elephants triumphed over Algeria and DR Congo to reach the finals. Once again, their opponent was Ghana; once again, the match went to penalties after the regular and extra time produced no goals. Ivory Coast won 9-8, with goalkeeper Boubacar Barry saving a shot and scoring himself in the final round.
FIFA World Cup results
Ivory Coast has participated three times in the World Cup (FIFA World Cup qualification not included).
Ivory Coast's performances in the World Cup

| Year | Result |
| --- | --- |
| 2022 | Not qualified |
| 2018 | Not qualified |
| 2014 | Group Stage |
| 2010 | Group Stage |
| 2006 | Group Stage |
| 2002 | Not qualified |
| 1998 | Not qualified |
| 1994 | Not qualified |
| 1990 | Not qualified |
| 1986 | Not qualified |
| 1982 | Did not participate |
| 1978 | Not qualified |
| 1974 | Not qualified |
| 1970 | Did not participate |
| 1966 | Did not participate |
| 1962 | Did not participate |
| 1958 | Did not participate |
| 1954 | Did not participate |
| 1950 | Did not participate |
| 1938 | Did not participate |
| 1934 | Did not participate |
| 1930 | Did not participate* |
By Martin Wahl
Logo

The logo depicts an elephant in white over green background. Also, the letters "Cote D'Ivoire" can be seen. The unusual form of the emblem replicates the country's contours on the map.
External links
References:
https://en.wikipedia.org/wiki/Ivory_Coast_national_football_team
https://en.wikipedia.org/wiki/Ivory_Coast_at_the_FIFA_World_Cup
Image source:
Danilo Borges