Luís Figo
In his prime, Luís Figo was always the most creative player on the pitch. Thanks to his quickness, elegance, and skill with the ball, Figo thrived in one-on-one situations, often beating his defenders with feints and stepovers. He was also known for his leadership skills and the ability to create goal-scoring opportuni-ties, as evident from his 106 assists in La Liga -- second only to Leo Messi.
Basic facts
Birth: 1972
Country: Portugal
Position: Midfielder
Clubs
Sporting (1989–1995)
Barcelona (1995–2000)
Real Madrid (2000–2005)
Inter (2005–2009)
Stats
Club football: 577 matches, 93 goals
National team: 127 matches, 32 goals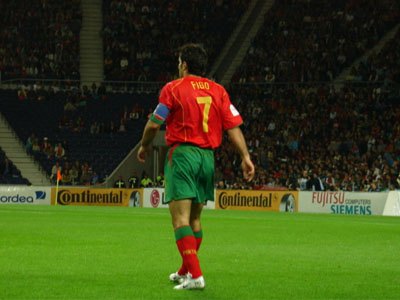 Biography
Early Excellence
As a young player, Figo established himself as the leader of Portugal's "Golden Generation." Alongside players such as Rui Costa and Joao Pinto, Figo led Portugal to victories at U-16 and U-20 European Championships. At club level, he began his career at Sporting CP, where he played until 1995 and a move to Spanish giants Barcelona.
At Barcelona, Figo's career really took off. During the following five years, he played a big part in the club winning a Cup Winners' Cup (1997) and two straight La Ligas (1998, 1999). For his achievements, he won a Ballon d'Or in 2000. He was undeniably the most revered football player in Catalonia of his era, which is why everyone was shocked when Figo accepted the move to Real Madrid the same year.
Advertisement

The Galacticos
As it turned out, the signing of Figo was the beginning of Florentino Perez's "Galactico Era," which saw Real Madrid sign a global star every year. Soon after his arrival, Figo was joined by Zidane, Ronaldo, and Beckham. In the first match against his old club, Figo was jeered by the entire Nou Camp, forcing him to put his fingers to his ears. The second game didn't go much better, as the fans were routinely preventing him from taking a corner by throwing numerous objects at him, including a pig's head.
Despite these incidents, Figo enjoyed a successful career at Real Madrid. In his five years there, he won two La Ligas (2001, 2003) and a UEFA Champions League in 2002. In 2001, he was voted FIFA Player of the Year.
During this time, Figo also made major strides at the international scene. At the Euro 2000, he led Portugal to the semi-finals, where they lost 2-1 on a golden goal from Trezeguet. After a disappointing group stage elimination at the 2002 World Cup, Figo and Portugal bounced back at the Euro 2004. However, they weren't able to clear the final hurdle; in the final match, Greece upset them 1-0.
Later Career
Internationally, Figo enjoyed his swan song at the 2006 World Cup. With him as the captain, Portugal finished top of their group and sailed past Netherlands and England on their way to the semi-finals. Despite losing to France 1-0, this was still Portugal's best World Cup finish in four decades. The third-place playoff was Figo's last match for Portugal; he finished his career with 32 goals in 127 appearances.
After his contract with Real had expired, Figo joined Inter Milan. Despite losing some pace and mobility in his twilight playing years, he was still more than capable of contributing in a playmaking role. This would prove to be Figo's most successful stretch in his career, as he managed to win Serie A in each of his four seasons with Inter. On the same day that the club won its 2009 Serie A title, Figo announced his retirement from football.
By Martin Wahl
Trivia
Football players also born in 1972
---

Zinedine Zidane
References
https://en.wikipedia.org/wiki/Lu%C3%ADs_Figo
https://www.thefamouspeople.com/profiles/lus-figo-6846.php
Image sources:
Senaeal Buquerque