Barnsley FC
As a club, Barnsley FC, can't compete in merits with the biggest club, but it has a record of having played over 70 seasons in the second division (the second top league in England). Barnsley has several nicknames: The Reds, The Colliers and especially The Tykes.
Basic facts
Founded: 1887
Country: England
City: Barnsley
Home grounds
Oakwell (1888-)
Main trophies
FA Cup: 1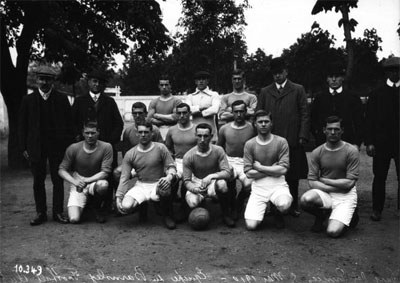 History
The club was founded in 1887 by the priest Tiverton Preedy that also gave the club its name from his own congregation, Barnsley St. Peter's. The name would ten years later be changed to just Barnsley.

Barnsley FC is one of the oldest football clubs and played their first season in the Football League in 1898. They were included in the league system when the Second Division expanded from 16 to 18 teams for the 1898-99 season.

The South Yorkshire club reached their first FA Cup final in 1910 and would win the same tournament two years later against West Bromwich, after replay (0-0, 1-0).
By Oscar Anderson
Advertisement
Trivia
Football clubs also founded in 1887

Blackpool FC


Celtic FC


Hamburger SV
League statistics
League record
Titles in total: 0
Premier League titles: 0
First participation: 1898-1899
All seasons
| Season | League | Position | Points | Notes |
| --- | --- | --- | --- | --- |
| 2018-19 | League One | 2 | 91 | |
| 2017-18 | Championship | 22 | 41 | Relegated |
| 2016-17 | Championship | 14 | 58 | |
| 2015-16 | League One | 6 | 74 | Promoted |
| 2014-15 | League One | 11 | 62 | |
| 2013-14 | Championship | 23 | 39 | Relegated |
| 2012-13 | Championship | 21 | 55 | |
| 2011-12 | Championship | 21 | 48 | |
| 2010-11 | Championship | 17 | 56 | |
| 2009-10 | Championship | 16 | 54 | |
| 2008-09 | Championship | 20 | 52 | |
| 2007-08 | Championship | 16 | 55 | |
| 2006-07 | Championship | 20 | 50 | |
| 2005-06 | League One | 5 | 72 | Promoted |
| 2004-05 | League One | 13 | 61 | |
| 2003-04 | 2nd Division | 12 | 62 | |
| 2002-03 | 2nd Division | 19 | 52 | |
| 2001-02 | 1st Division | 23 | 48 | Relegated |
| 2000-01 | 1st Division | 16 | 54 | |
| 1999-00 | 1st Division | 4 | 82 | |
| 1998-99 | 1st Division | 13 | 59 | |
| 1997-98 | Premier League | 19 | 35 | Relegated |
| 1996-97 | 1st Division | 2 | 80 | |
| 1995-96 | 1st Division | 10 | 60 | |
| 1994-95 | 1st Division | 6 | 72 | |
| 1993-94 | 1st Division | 18 | 55 | |
| 1992-93 | 1st Division | 13 | 60 | |
| 1991-92 | 2nd Division | 16 | 59 | Promoted |
| 1990-91 | 2nd Division | 8 | 69 | |
| 1989-90 | 2nd Division | 19 | 54 | |
| 1988-89 | 2nd Division | 7 | 74 | |
| 1987-88 | 2nd Division | 14 | 57 | |
| 1986-87 | 2nd Division | 11 | 55 | |
| 1985-86 | 2nd Division | 12 | 56 | |
| 1984-85 | 2nd Division | 11 | 58 | |
| 1983-84 | 2nd Division | 14 | 52 | |
| 1982-83 | 2nd Division | 10 | 57 | |
| 1981-82 | 2nd Division | 6 | 67 | |
| 1980-81 | 3rd Division | 2 | 59 | Promoted |
| 1979-80 | 3rd Division | 11 | 46 | |
| 1978-79 | 4th Division | 4 | 61 | Promoted |
| 1977-78 | 4th Division | 7 | 50 | |
| 1976-77 | 4th Division | 6 | 55 | |
| 1975-76 | 4th Division | 12 | 44 | |
| 1974-75 | 4th Division | 15 | 41 | |
| 1973-74 | 4th Division | 13 | 44 | |
| 1972-73 | 4th Division | 14 | 44 | |
| 1971-72 | 3rd Division | 22 | 36 | Relegated |
| 1970-71 | 3rd Division | 12 | 45 | |
| 1969-70 | 3rd Division | 7 | 53 | |
| 1968-69 | 3rd Division | 10 | 46 | |
| 1967-68 | 4th Division | 2 | 61 | Promoted |
| 1966-67 | 4th Division | 16 | 41 | |
| 1965-66 | 4th Division | 16 | 40 | |
| 1964-65 | 3rd Division | 24 | 29 | Relegated |
| 1963-64 | 3rd Division | 20 | 39 | |
| 1962-63 | 3rd Division | 18 | 41 | |
| 1961-62 | 3rd Division | 20 | 38 | |
| 1960-61 | 3rd Division | 8 | 49 | |
| 1959-60 | 3rd Division | 17 | 44 | |
| 1958-59 | 2nd Division | 22 | 27 | Relegated |
| 1957-58 | 2nd Division | 14 | 40 | |
| 1956-57 | 2nd Division | 19 | 34 | |
| 1955-56 | 2nd Division | 18 | 34 | |
| 1954-55 | 3rd Division N | 1 | 65 | Promoted |
| 1953-54 | 3rd Division N | 2 | 58 | |
| 1952-53 | 2nd Division | 22 | 18 | Relegated |
| 1951-52 | 2nd Division | 20 | 36 | |
| 1950-51 | 2nd Division | 15 | 40 | |
| 1949-50 | 2nd Division | 13 | 39 | |
| 1948-49 | 2nd Division | 9 | 40 | |
| 1947-48 | 2nd Division | 12 | 40 | |
| 1946-47 | 2nd Division | 10 | 42 | |
| 1939-46 | - | - | - | WWII |
| 1938-39 | 3rd Division N | 1 | 67 | |
| 1937-38 | 2nd Division | 21 | 36 | Relegated |
| 1936-37 | 2nd Division | 14 | 41 | |
| 1935-36 | 2nd Division | 20 | 33 | |
| 1934-35 | 2nd Division | 16 | 38 | |
| 1933-34 | 3rd Division N | 1 | 62 | Promoted |
| 1932-33 | 3rd Division N | 8 | 46 | Relegated |
| 1931-32 | 2nd Division | 21 | 33 | |
| 1930-31 | 2nd Division | 19 | 35 | |
| 1929-30 | 2nd Division | 17 | 36 | |
| 1928-29 | 2nd Division | 16 | 38 | |
| 1927-28 | 2nd Division | 14 | 39 | |
| 1926-27 | 2nd Division | 11 | 43 | |
| 1925-26 | 2nd Division | 18 | 36 | |
| 1924-25 | 2nd Division | 15 | 38 | |
| 1923-24 | 2nd Division | 11 | 43 | |
| 1922-23 | 2nd Division | 9 | 45 | |
| 1921-22 | 2nd Division | 3 | 52 | |
| 1920-21 | 2nd Division | 16 | 36 | |
| 1919-20 | 2nd Division | 12 | 40 | |
| 1915-19 | - | - | - | WWI |
| 1914-15 | 2nd Division | 3 | 47 | |
| 1913-14 | 2nd Division | 5 | 45 | |
| 1912-13 | 2nd Division | 4 | 45 | |
| 1911-12 | 2nd Division | 6 | 42 | |
| 1910-11 | 2nd Division | 19 | 28 | |
| 1909-10 | 2nd Division | 9 | 39 | |
| 1908-09 | 2nd Division | 17 | 32 | |
| 1907-08 | 2nd Division | 16 | 30 | |
| 1906-07 | 2nd Division | 8 | 38 | |
| 1905-06 | 2nd Division | 12 | 33 | |
| 1904-05 | 2nd Division | 7 | 33 | |
| 1903-04 | 2nd Division | 8 | 32 | |
| 1902-03 | 2nd Division | 8 | 34 | |
| 1901-02 | 2nd Division | 11 | 30 | |
| 1900-01 | 2nd Division | 15 | 27 | |
| 1899-00 | 2nd Division | 16 | 23 | |
| 1898-99 | 2nd Division | 11 | 31 | |
References:
https://sv.wikipedia.org/wiki/Barnsley_FC
Image sources:
Agence Rol