West Bromwich Albion FC
West Bromwich was one of the team that participated in the Football League the first season in 1888. They have won Division One at one occasion, in 1920. They are five times FA Cup champions and one time Football League Cup champions.
Basic facts
Founded: 1878
Country: England
City: West Bromwich
Home grounds
Copper's Hill (1878-1879)
Dartmouth Park (1879-1881)
Bunn's Field (1881-1882)
Four Acres (1882-1885)
Stoney Lane (1885-1900)
The Hawthorns (1900-)
Main trophies
First Division/Premier League: 1
FA Cup: 5
Football League Cup: 1
Prominent players
Bryan Robson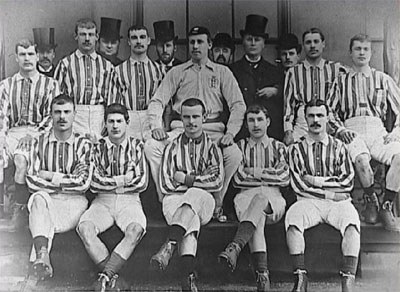 History
The club was founded in 1878 as West Bromwich Strollers, and when changed name to West Bromwich Albion three years later.

The club's most successful period for the club came about in the last two decades in the 19th century. Between 1886 and 1895 they reach the FA Cup final five times and won twice. Famous is the victory over Preston in the 1888 final in front of 17,000 thousand spectators.
By Oscar Anderson
Trivia
Football clubs also founded in 1878

Everton FC


Ipswich Town FC


Manchester United FC
Premier League record
| Season | Position | Points | Notes |
| --- | --- | --- | --- |
| 2017-18 | 20 | 31 | Relegated |
| 2016-17 | 10 | 45 | |
| 2015-16 | 15 | 42 | |
| 2014-15 | 12 | 47 | |
| 2013-14 | 17 | 36 | |
| 2012-13 | 8 | 49 | |
| 2011-12 | 10 | 47 | |
| 2010-11 | 11 | 47 | |
| 2009-10 | - | - | |
| 2008-09 | 20 | 32 | Relegated |
| 2007-08 | - | - | |
| 2006-07 | - | - | |
| 2005-06 | 19 | 30 | Relegated |
| 2004-05 | 17 | 34 | |
| 2003-04 | - | - | |
| 2002-03 | 19 | 26 | Relegated |
| 2001-02 | - | - | |
| 2000-01 | - | - | |
| 1999-00 | - | - | |
| 1998-99 | - | - | |
| 1997-98 | - | - | |
| 1996-97 | - | - | |
| 1995-96 | - | - | |
| 1994-95 | - | - | |
| 1993-94 | - | - | |
| 1992-93 | - | - | |
References:
Premier League by Gunnar Persson
Image sources:
Full Throstle: The Official History of West Bromwich Albion