Boavista FC
One Championship title and five Cup wins (plus three Super Cup victories) may not look much for a club that has a history of – well – over a century, but given that this is Portugal, a country whose football scene has always been dominated by the "Big Three" (Benfica, Porto and Sporting), it's still enough to make Boavista fans proud, knowing that they are the fourth biggest club in the country, and one of only five to have won the Championship.
Basic facts
Founded: 1903
Country: Portugal
City: Porto

Home grounds
Campo do Bessa (1911-1973)
Estádio do Bessa (1973-)

Main trophies
Primeira Liga: 1
Taça de Portugal: 5
Prominent players
Erwin Sánchez, Mário Moinhos, João Pinto, Nuno Gomes, Petit, José Bosingwa, Raul Meireles, Jimmy Floyd Hasselbaink, Ricky, Fernando Caiado, Zoran Filipović, Marlon Brandão, Artur, Kwame Ayew, Elpídio Silva, Zé Manel, Pedro Emanuel, Ricardo Silva, Rui Lima, Bruno Fernandes, Ricardo Costa
Club records
Most games played: Erwin Sánchez (219)
Top goalscorer: Ricky (57)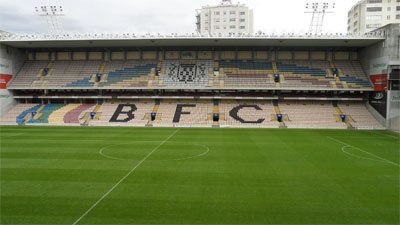 History
Boavista Futebol Clube were founded in 1903 by English brothers and entrepreneurs Harry and Dick Lowe, joined by Portuguese textile workers who were employed at the same business, owned by a certain William Graham.
The Lowe brothers received a football from their father back home, and that's how they started organizing games for the team they first called "The Boavista Footballers" (Boavista being the part of Porto where the factory was located).
Just six years later, the club faced its first major crisis. The English, Anglican Christians, insisted on having the games scheduled on Saturdays. The Portuguese workers, Catholic Christians, made it clear they would only play on Sundays.
In the vote that was chosen as a way out of the dead-end, the Portuguese won. Subsequently, many English members left the club, and Graham, who had been supporting the whole project financially since day one, terminated his involvement with the club.
Changing the name
A year later, with the majority of the club members now Portuguese, the name was changed to Boavista Futebol Clube, with the initials "FC" remaining, as a connection to the club's origins. As a matter of fact, both names, Boavista Futebol Clube and Boavista Football Club kept being used for decades, at least until the 40s, according to some accounts.
In 1914, Porto Championship (Campeonato do Porto) had its premier and the team won its first and only title of the competition that would be dominated by Porto until it was discontinued after the 1946-47 season. A few months later things changed dramatically, when several English members of the club left to fight in World War I. Many, never made it back to Porto.
Two years later, Portugal itself entered the war, with a new wave of club members leaving to fight. Once the war was over, Boavista picked up its pieces and started building a new team. They did, but major successes proved impossible to be reached, until well into the 70s.
Beginning of a golden era
In 1975, the team won the first major trophy in their history, the Taça de Portugal, marking the beginning of a golden era. Next season, Boavista retained their Cup title, finishing second in the Championship, the best they had ever managed. In 1979, they did it again, winning Portugal's Cup for a third time, leaving their mark on the 70s for good.
The 80s passed by… quietly, but in 1992 Boavista went back to adding silverware to their – modest – collection. A fourth Cup triumph was followed by a fifth one in 1997, with the team having reached – but lost – the 1993 final as well.
Winning its first Primeira Liga trophy
Just before the end of the century, Boavista went a step higher, starting challenging for the Championship title. In 1999 they finished second, for just the second time in their history. Unlike the previous one though, this time they proved more consistent, and in 2001, they finally got rewarded.
Almost a century after the day they were founded, Boavista became champions of Portugal for the first time, a truly historic occasion for the Porto club, who had gone through all sorts of troubles, agonies and failures, only to finally taste the big glory.
Boavista's success takes a whole bigger meaning considering that they became just the fifth club in Portugal to win the Championship, and only second outside the "Big Three"… block (Belenenses had won it once, back in 1946).
What came next, was their best ever season at international level, in the 2002-03 UEFA Cup edition. Maccabi Tel Aviv, Anorthosis, Paris Saint-Germain, Hertha Berlin, Malaga, they all fell victims to Boavista, who reached the semi-finals. There, they drew 1-1 in Glasgow to Celtic, an excellent result, giving them an advantage. The Scots went on to win the game (1-0) in Porto though, putting an end to Boavista's European dream.
Downfall
The heartbreaking of that night, was nothing compared to what followed the next ten years. Despite the fact that the team entered their totally revamped (thanks to UEFA's Euro 2004 that was hosted in the country) stadium, or possibly exactly because of that, they immediately ran into serious trouble.
The money the club expected for the reconstruction of the stadium (ΧΧΙ in the name stands for 21st century and was added when they reconstructed it), ditidn't find its way to their coffers, Boavista were left with a huge gap in their finances, with all the downsides that came with.

The team just couldn't keep up with the "Big Three", and that wasn't the worst. In 2008 they were relegated to the second category, the first time in 40 years. It immediately got even worse, with the team spending five seasons in the third category, before finding a way to return to Portugal's Primeira Liga in 2014.
Player records
No player has appeared in more Boavista games that Bolivian Erwin Sánchez, probably the team's most emblematic figure from 1992 to 2004, no matter if he spent a season and a half at Benfica as well during that time. He played in 219 games in the Championship alone, scoring many important goals.
Nigerian Richard Daddy Owubokiri, more commonly known as Ricky, spent only three seasons at Boavista, from 1991 to 1994, but that proved enough for him to score 57 goals in the Primeira Liga alone.
Several other well-known players have worn Boavista's jersey, some starting their professional career there, like Raul Meireles, José Bosingwa, Nuno Gomes and João Pinto, others using (in the good sense) the team as a stepping stone early in their career to make a name for themselves. Jimmy Floyd Hasselbaink is a very characteristic example. He scored 20 goals for Boavista in 29 Primeira Liga matches in 1996-97, and that's where Leeds United signed him from.
Having experienced paradise and hell this first part of the 21st century, having gone from national champions and UEFA Cup title contenders to the… obscurity of Portugal's third division, Boavista hope to live again some of the moments they last experienced in 2003.
By Dimitris Basias
Advertisement

Logo

Boavista's instantly-recognizable chequered black and white crest has been in use since 1933. Before that, the club's logo included a tennis racket, a hockey stick, and other items used in sports that Boavista had (and still have) a section for. Interestingly, the idea for Boavista's very characteristic crest and jersey was born during a trip of then president Artur Oliveira Valença to France, where he happened to notice a local team playing in chequered black and white kits.
Boavista FC timeline
1903 The club is established (as The Boavista Footballers).
1910 The club is renamed as Boavista Futebol Clube.
1914 Winning the first edition of Campeonato do Porto.
1933 The black and white checkered shirt is introduced.
1935 Debuting in the Portuguese league (Campeonato da Liga).
1975 First time Taça de Portugal champions.
1979 First time winner of Supertaça de Portugal.
2001 First Primeira Liga title.
Trivia
Football clubs also founded in 1903

Athletic Bilbao


Atlético Madrid


Beşiktaş JK


Grêmio
Club nicknames:
As Panteras (The Panthers)
External links
References:
https://en.wikipedia.org/wiki/Boavista_FC
https://pt.wikipedia.org/wiki/Boavista_Futebol_Clube
https://es.wikipedia.org/wiki/Erwin_Sánchez
https://pt.wikipedia.org/wiki/Ricky_(futebolista)
http://www.boavistafc.pt/pt/go/boavista-de-hoje
Image source:
https://upload.wikimedia.org/wikipedia/commons/3/39/Estádio_do_Bessa_XXI.jpg