Boca Juniors
Boca Juniors are together with River Plate the two most successful Argentine football clubs. In their over hundred years long history they have won the top domestic league more than 30 times and also both Copa Libertadores and Intercontinental Cup several times. Some of the most legendary Argentine players, including Diego Maradona, Claudio Caniggia, Juan Román Riquelme and Carlos Tévez, has been playing in the classic blue and yellow kit.
Basic facts
Founded: 1905
Country: Argentina
City: Buenos Aires
Home grounds
Dársena Sud (1905–07)
Isla Demarchi (1908–12)
Wilde (1914–15)
Ministro Brin and Senguel (1916–24)
Brandsen and Del Valle Iberlucea (1924–38)
La Bombonera (1940–)
Main trophies
Primera División: 33
Copa Argentina: 3
Copa Libertadores: 6
Prominent players
Roberto Cerro, Francisco Varallo, Oreste Corbatta, Domingo Tarasconi, Jaime Sarlanga, Antonio Rattín, Roberto Mouzo, Diego Maradona, Óscar Ruggeri, Claudio Caniggia, Juan Román Riquelme, Martin Palermo, Walter Samuel, Óscar Córdoba, Carlos Tévez
Club records
Most games played: Roberto Mouzo (426)
Top goalscorer: Martin Palermo (236)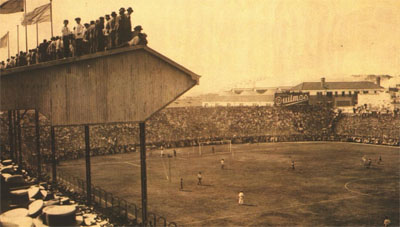 History
Club Atlético Boca Juniors were founded in 1905 by five Italian immigrants. In the early days, Boca, played in Dársena Sur located in La Boca (southeast Buenos Aires), and actually on the same place that River Plate played.

Their first kits were without doubt inspired by the Italian team Juventus. Eight years later, Boca began to play in their famous blue shirts with the horizontal yellow band – inspired by the Swedish vessel Drottning Sophia that guested the port of Buenos Aires with a Swedish flag.

The blue and yellow kit was adopted the same year they became a member of the Primera División after it had been expanded from 6 to 15 teams. It when took the team six years to win the highest national league. They would follow up the domestic victory by beating the Uruguay champions in Copa de Competencia Chevallier Boutell (the last edition of the tournament that was ever held).

In 1939, Eduardo Sánchez Terrero, married to Argentina president Agustín Pedro Justo's daughter, become the club president. During his presidency Estadio Camilo Cichero, later known as Estadio Alberto J. Armando, was built and it opened in 1940. The stadium would be overhauled two times in the following years to expand its capacity and after a third tier was completed it earned the nicknamed La Bombera (The Chocolate Box in English).
Advertisement

A champion team
Boca Juniors won the top-league four times in the 1920s and has ever since been the most respected Argentine club in football alongside River Plate. Boca would in addition be honored as "Argentine Champion" five times through the Copa Ibarguren (only Racing won as many times), which was a tournament contested between the winners of Primera División and Liga Rosarina (alternatively Litoral league or Copa Presidente) between 1913 and 1958.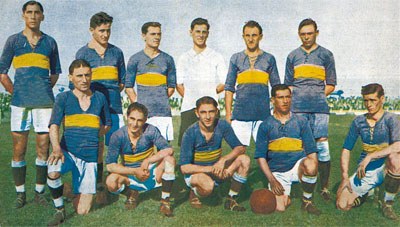 In 1963, they almost became the first Argentine side to win the Copa Libertadores. They reach the final there they faced the strong Santos led by Pelé in a two-legged match and lost 5-3 in aggregation.

Boca Juniors finally got their satisfaction in 1977. They were once again facing a Brazilian team in the final, this time Cruzeiro. After winning 1-0 at home and losing 0-1 away, a rematch on neutral ground in Montevideo would go all the way to penalties. The fifth penalty taker for Cruzeiro missed and Boca had finally won the prestigious competition. And why don't do it again the following year? In the 1978 Boca claimed their second Copa Libertadores after defeating the Colombian side Deportivo Cali with a comfortable 4-0 over two matches.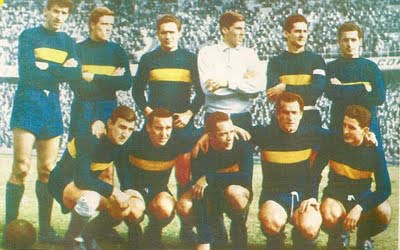 Economic crisis
The twenty years old Diego Maradona was transferred to Boca from Argentinos Juniors in 1981. Boca Juniors had been Diego's favorite team and he went for Boca although River Plate offered a more lucrative deal.

In his first season as a Boca player Maradona were part of a team that was crushing River Plate by 3-0 at La Bombera and winning the Primera División Metropolitano. But the club's economy was catastrophically bad and Boca couldn't pay the next installment of the Maradona transfer. It was impossible to keep the "El Pibe de Oro" in the team and he was sold to Barcelona (Maradona would return to Boca in 1995 and end his playing career in the club).

The economic struggle had just begun though. The player wages could not be paid and the players threatened with a strike. A bankruptcy seemed impending. In the end, they were saved by money from the president Antonio Alegre and his deputy Carlos Heller, who were investing their own money. Also, the sport complex Ciudad Deportiva that had opened in 1975 by the former Boca president Alberto José Armando but no longer was owned by the club, was sold and the money was used to clear debts.

After over ten years without a national league title, Boca Juniors finally won the Apertura in 1992. Another turning point was the arrival of the new manager Óscar Tabárez in 1993.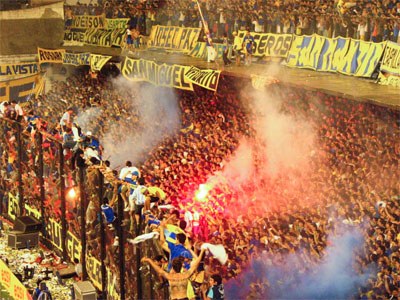 Boca Juniors had a strong team around year 2000. They were in the top of Argentine football with three successive league titles (1998-2000) with a team including players such as Juan Román Riquelme, Marcelo Delgado and Martín Palermo. The pinnacle came in 2000 with a glorious treble. Besides the Primera, they won the Copa Libertadores and the Intercontinental Cup that year.

They are one of the most successful clubs in the world when looking at the statistics from the Intercontinental Cup – Boca has won the cup three times, an achievement done by only four other clubs (Milan, Nacional, Peñarol and Real Madrid).
By Georgios Moralis
Advertisement

Logo

Since the first crest was introduced in 1920 the shield shape have remained. Until 1995, when the present logo was adopted, a yellow band (corresponding to that on the shirt could be seen on the shield). The stars (each represent a league title) were however included on the badge that was introduced in 1970.
Club Atlético Boca Juniors timeline
1905 The club is established.
1919 First cup title (Copa de Competencia Jockey Club).
1919 First domestic top-league title.
1940 The club move to the Estadio Camilo Cichero (later renamed as Estadio Alberto J. Armando).
1962 Arsenal de Llavallol is acquired and become the reserve team of Boca.
1969 Winning Copa Argentina for the first time.
1977 Winning their first Copa Libertadores.
1981 Diego Maradona is transferred from Argentinos Juniors.
1982 Diego Maradona is transferred to FC Barcelona for a world record fee of $7.3 million.
Trivia
Football clubs also founded in 1905
External links
References:
Jonathan Wilson, Angels with Dirty Faces (2016)
https://en.wikipedia.org/wiki/Boca_Juniors
https://en.wikipedia.org/wiki/Copa_Ibarguren
Image source:
1. Unknown
2. Unknown (first published in El Grafico magazine)
3. Unknown (first published in Goles magazine)
4. Algunos derechos reservados