Juan Román Riquelme
Through most of his career, Juan Román Riquelme seemed like a man out of time. By the time he established himself, his player type -- classic number 10's -- were almost extinct. Still, his playmaking ability, infinite passing range, and dribbling skills were more than enough to cement his place in history. Despite his inconsistency and devil-may-care attitude, Riquelme eventually became one of those players that define a generation.
Basic facts
Birth: 1978
Country: Argentina
Position: Midfielder
Clubs
Boca Juniors (1996–2002)
Barcelona (2002–2005)
Villarreal (2003–2005, loan)
Villarreal (2005–2007)
Boca Juniors (2007, loan)
Boca Juniors (2007–2014)
Argentinos Juniors (2014)
Stats
Club football: 495 matches, 123 goals
National team: 51 matches, 17 goals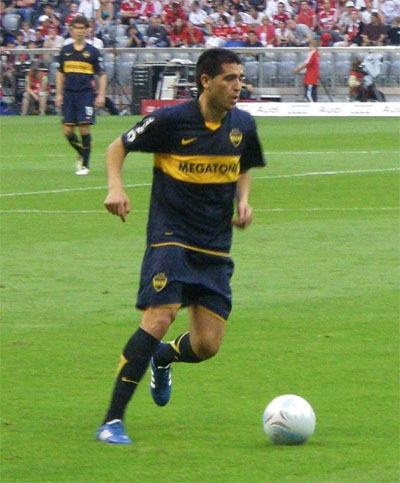 Biography
Becoming famous
As a youth player, Riquelme played for various junior teams before he was spotted by both River Plate and Boca Juniors. As a diehard Boca fan, he opted for his favorite team. He made his Primera División debut against Unión de Santa Fe in 1996, and scored his first senior goal in a 6-0 drubbing of Hurracan two weeks later.
He stayed in Boca until 2002, winning two Apertura titles and two Copa Libertadores trophies along the way. By the turn of the century, he was already the team's most valuable player, as evidenced by him getting named the Argentine footballer of the year in 2000 and 2001. Around this time, he also debuted for the senior national team at the 1999 Copa América. He played in all 4 of Argentina's matches at the tournament, up until getting eliminated by Brazil.
Advertisement

A Spanish odyssey
By 2002, El Torero could no longer resist the calls of European football. That year, he was transferred to Barcelona for €11 million. However, Barcelona's manager Louis Van Gal was far from Riquelme's biggest fan. On the rare occasions he was given a chance, Riquelme played as a winger and was unable to find his rhythm. Once Barcelona signed Ronaldinho, Riquelme lost his place in the team and was sent to Villarreal on a two-year loan.
In Villarreal, Riquelme made an immediate impact. In his second season, he led the team to its best-ever third position in La Liga, scoring 15 goals in 35 games and getting nominated for FIFA Player of the Year. As a result, the club bought his rights from Barcelona and extended his contract for four more years. The following season, Villarreal was eliminated by Arsenal in the semi-finals of the Champions League, with Riquelme missing a crucial penalty.
In 2006, Riquelme played in his first and only World Cup. After assisting Saviola for the game-winner against the Ivory Coast in the opener, he was named man of the match in the second game against Serbia and Montenegro. He continued to play well in the knockout stage, notching important assists against Mexico and Germany. The latter match saw him taken out in the 72nd minute, with Germany equalizing moments later and winning the match on penalties.
Return to Boca
After the World Cup, Riquelme's bad habits saw him slowly lose his place in the team. In 2007, he was loaned back to Boca for five months, just in time to participate in the Copa Libertadores. He went on to score eight goals in the competition, including three in the finals against Gremio. Boca won its sixth competition title, and Riquelme was voted player of the tournament. Later that year, Villarreal agreed to sell him back to Boca for a record-breaking $15 million.
El Torero spent the following seven seasons in Boca, helping the club win two additional Apertura titles in 2008 and 2011. At the age of 34, he announced retirement from football after a tough 1-3 loss to Corinthians in the Copa Libertadores finals. However, he returned to the club the following year before signing with Argentinos Juniors in 2014. In 2015, he retired from football for good.
By Martin Wahl
References:
https://en.wikipedia.org/wiki/Juan_Román_Riquelme
http://www.aworldofsoccer.com/top_players/r/juan_roman_riquelme.htm
Image source:
Chivista