Wolverhampton Wanderers FC
Wolverhampton Wanderers FC has won the top British league three times: 1954, 1958 and 1959. They have also won the FA Cup four times and the Football League Cup two times. They reach the UEFA Cup final in 1972. Two of the most prominent players are Billy Wright and Bill Slater.
Basic facts
Founded: 1877
Country: England
City: Wolverhampton
Home grounds
Windmill Field (1877-1879)
John Harper's Field (1879-1881)
Dudley Road (1881-1889)
Molineux Stadium (1889-)
Main trophies
First Division/Premier League: 3
FA Cup: 4
Football League Cup: 2
Prominent players
Bryn Jones, Billy Wright, Peter Broadbent, Jesse Pye, George Berry, David Kelly, Steve Bull, Colin Cameron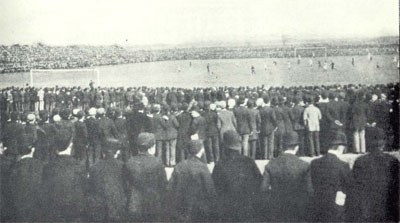 History
The club, not to be confused by the at that time already existing Wanderers FC, was founded in 1877 and it was one of the original included teams when Football League was founded in 1888. The same season year would the team reach the final in the FA Cup, which ended with a loss against Preston North End. Wolverhampton would once again reach the final in the same tournament four years later and could that time celebrate a victory.

The strongest period was probably in the late 1950s and 1960 when the club won the league twice (1958 and 1959) and also the FA Cup in 1960. It should be added that the former dominant, Manchester United, was weakened because of the Munich plane crash in 1958.
By Oscar Anderson
Advertisement

League statistics
League record
Titles in total: 3
Premier League titles: 0
First participation: 1888-1889
First title: 1953-1954
All seasons
| Season | League | Position | Points | Notes |
| --- | --- | --- | --- | --- |
| 2018-19 | Premier League | 7 | 57 | |
| 2017-18 | Championship | 1 | 99 | Promoted |
| 2016-17 | Championship | 15 | 58 | |
| 2015-16 | Championship | 14 | 58 | |
| 2014-15 | League One | 7 | 78 | Promoted |
| 2013-14 | Championship | 1 | 103 | Relegated |
| 2012-13 | Championship | 23 | 51 | |
| 2011-12 | Premier League | 20 | 25 | Relegated |
| 2010-11 | Premier League | 17 | 40 | |
| 2009-10 | Premier League | 15 | 38 | |
| 2008-09 | Championship | 1 | 90 | Promoted |
| 2007-08 | Championship | 7 | 70 | |
| 2006-07 | Championship | 5 | 76 | |
| 2005-06 | Championship | 7 | 67 | |
| 2004-05 | Championship | 9 | 66 | |
| 2003-04 | Premier League | 20 | 33 | Relegated |
| 2002-03 | Championship | 5 | 76 | Promoted |
| 2001-02 | Championship | 3 | 83 | |
| 2000-01 | Championship | 12 | 55 | |
| 1999-00 | 1st Division | 7 | 74 | |
| 1998-99 | 1st Division | 7 | 73 | |
| 1997-98 | 1st Division | 9 | 65 | |
| 1996-97 | 1st Division | 3 | 76 | |
| 1995-96 | 1st Division | 20 | 55 | |
| 1994-95 | 1st Division | 4 | 76 | |
| 1993-94 | 1st Division | 8 | 68 | |
| 1992-93 | 1st Division | 11 | 61 | |
| 1991-92 | 2nd Division | 11 | 64 | Promoted |
| 1990-91 | 2nd Division | 12 | 58 | |
| 1989-90 | 2nd Division | 10 | 67 | |
| 1988-89 | 3rd Division | 1 | 92 | Promoted |
| 1987-88 | 4th Division | 1 | 90 | Promoted |
| 1986-87 | 4th Division | 4 | 79 | |
| 1985-86 | 3rd Division | 23 | 43 | Relegated |
| 1984-85 | 2nd Division | 22 | 33 | Relegated |
| 1983-84 | 1st Division | 22 | 29 | Relegated |
| 1982-83 | 2nd Division | 2 | 75 | Promoted |
| 1981-82 | 1st Division | 21 | 40 | Relegated |
| 1980-81 | 1st Division | 18 | 35 | |
| 1979-80 | 1st Division | 6 | 47 | |
| 1978-79 | 1st Division | 18 | 34 | |
| 1977-78 | 1st Division | 15 | 36 | |
| 1976-77 | 2nd Division | 1 | 57 | Promoted |
| 1975-76 | 1st Division | 20 | 30 | Relegated |
| 1974-75 | 1st Division | 12 | 39 | |
| 1973-74 | 1st Division | 12 | 41 | |
| 1972-73 | 1st Division | 5 | 47 | |
| 1971-72 | 1st Division | 9 | 47 | |
| 1970-71 | 1st Division | 4 | 52 | |
| 1969-70 | 1st Division | 13 | 40 | |
| 1968-69 | 1st Division | 16 | 35 | |
| 1967-68 | 1st Division | 17 | 36 | |
| 1966-67 | 2nd Division | 2 | 58 | Promoted |
| 1965-66 | 2nd Division | 6 | 50 | |
| 1964-65 | 1st Division | 21 | 30 | Relegated |
| 1963-64 | 1st Division | 16 | 39 | |
| 1962-63 | 1st Division | 5 | 50 | |
| 1961-62 | 1st Division | 18 | 36 | |
| 1960-61 | 1st Division | 3 | 57 | |
| 1959-60 | 1st Division | 2 | 54 | |
| 1958-59 | 1st Division | 1 | 61 | 3rd league title |
| 1957-58 | 1st Division | 1 | 64 | 2nd league title |
| 1956-57 | 1st Division | 6 | 48 | |
| 1955-56 | 1st Division | 3 | 49 | |
| 1954-55 | 1st Division | 2 | 48 | |
| 1953-54 | 1st Division | 1 | 57 | 1st league title |
| 1952-53 | 1st Division | 3 | 51 | |
| 1951-52 | 1st Division | 16 | 38 | |
| 1950-51 | 1st Division | 14 | 38 | |
| 1949-50 | 1st Division | 2 | 53 | |
| 1948-49 | 1st Division | 6 | 46 | |
| 1947-48 | 1st Division | 5 | 47 | |
| 1946-47 | 1st Division | 3 | 56 | |
| 1939-46 | - | - | - | WWII |
| 1938-39 | 1st Division | 2 | 55 | |
| 1937-38 | 1st Division | 2 | 51 | |
| 1936-37 | 1st Division | 5 | 47 | |
| 1935-36 | 1st Division | 15 | 40 | |
| 1934-35 | 1st Division | 17 | 38 | |
| 1933-34 | 1st Division | 15 | 40 | |
| 1932-33 | 1st Division | 20 | 35 | |
| 1931-32 | 2nd Division | 1 | 56 | Promoted |
| 1930-31 | 2nd Division | 4 | 47 | |
| 1929-30 | 2nd Division | 9 | 41 | |
| 1928-29 | 2nd Division | 17 | 37 | |
| 1927-28 | 2nd Division | 16 | 36 | |
| 1926-27 | 2nd Division | 15 | 35 | |
| 1925-26 | 2nd Division | 4 | 49 | |
| 1924-25 | 2nd Division | 6 | 46 | |
| 1923-24 | 3rd Division N | 1 | 63 | Promoted |
| 1922-23 | 2nd Division | 22 | 27 | Relegated |
| 1921-22 | 2nd Division | 17 | 37 | |
| 1920-21 | 2nd Division | 15 | 38 | |
| 1919-20 | 2nd Division | 19 | 30 | |
| 1915-19 | - | - | - | WWI |
| 1914-15 | 2nd Division | 4 | 45 | |
| 1913-14 | 2nd Division | 9 | 41 | |
| 1912-13 | 2nd Division | 10 | 38 | |
| 1911-12 | 2nd Division | 5 | 42 | |
| 1910-11 | 2nd Division | 9 | 38 | |
| 1909-10 | 2nd Division | 8 | 40 | |
| 1908-09 | 2nd Division | 7 | 39 | |
| 1907-08 | 2nd Division | 9 | 37 | |
| 1906-07 | 2nd Division | 6 | 41 | |
| 1905-06 | 1st Division | 20 | 23 | Relegated |
| 1904-05 | 1st Division | 14 | 26 | |
| 1903-04 | 1st Division | 8 | 36 | |
| 1902-03 | 1st Division | 11 | 33 | |
| 1901-02 | 1st Division | 14 | 32 | |
| 1900-01 | 1st Division | 13 | 31 | |
| 1899-00 | 1st Division | 4 | 39 | |
| 1898-99 | 1st Division | 8 | 35 | |
| 1897-98 | 1st Division | 3 | 35 | |
| 1896-97 | 1st Division | 10 | 28 | |
| 1895-96 | 1st Division | 14 | 21 | |
| 1894-95 | 1st Division | 11 | 25 | |
| 1893-94 | 1st Division | 9 | 31 | |
| 1892-93 | 1st Division | 11 | 28 | |
| 1891-92 | Football League | 6 | 26 | |
| 1890-91 | Football League | 4 | 26 | |
| 1889-90 | Football League | 4 | 25 | |
| 1888-89 | Football League | 3 | 28 | |
References:
Premier League by Gunnar Persson
Image sources:
Unknown